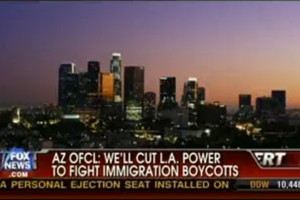 Last week, the City Council of Los Angeles approved a business boycott of the state of Arizona in response to its recently-passed illegal immigration law. Today, the Arizona Corporation Commission responded to the threat with one of their own: Arizona currently provides about 25% of Los Angeles' power, but if the boycott goes through, they will be happy to "take those electrons off your hands."
Commissioner Gary Pierce released the letter this morning, asking the City Council to listen to his message and, if not, suffer the consequences:
If an economic boycott is truly what you desire, I will be happy to encourage Arizona utilities to renegotiate your power agreements so Los Angeles no longer receives any power from Arizona-based generation. I am confident that Arizona's utilities would be happy to take those electrons off your hands. If, however, you find that the City Council lacks the strength of its convictions to turn off the lights in Los Angeles and boycott Arizona power, please reconsider the wisdom of attempting to harm Arizona's economy.
Pierce also made an appearance via phone on America Live with Megyn Kelly today, where he reiterated his intentionswhile clarifying that he is not threatening to cut energy without a new business deal. "I would welcome the opportunity to, in fact, help them negotiate the sale of power that they actually own in Arizona," Pierce explained "that's managed by Arizona Utility, and give them an opportunity to, if in fact they're serious about a boycott, really boycott." In response to Los Angeles Mayor Antonio Villaraigosa's non-response that "we are not going to respond to threats from a state which has isolated itself from the America that values freedom, liberty, and civil rights," Pierce suggested that the city might be "disingenuous" in its claims, and asked Los Angeles politicians to reconsider where the boycott mentality ends.
The America Live segment and the full letter from the Arizona Corporation Commission below:



Arizona Threatens Energy Counter-Boycott On Los Angeles
Have a tip we should know? tips@mediaite.com