Arlen Specter Refutes Rick Santorum's Debate Claim About Judicial Nominee Deals: 'That Is Flatly Not True'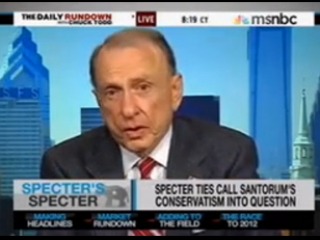 Former Pennsylvania Senator Arlen Specter (D) appeared on Chuck Todd's Daily Rundown Friday morning to clarify his relationship to current GOP presidential hopeful Rick Santorum. Specter, as you're likely aware, was a Republican from 1965, until switching back over to the Democratic party in 2009.
During Wednesday night's Arizona debate, rival candidate Mitt Romney drew attention to Santorum's 2004 endorsement of Specter, adding that "if you had not supported him…we would not have ObamaCare." As The Washington Post reports, Santorum's support for Specter has provided fuel for Romney and his campaign in the form of a political attack ad focusing on Specter's liberal record.
RELATED:Arlen Specter Reacts To Romney's Criticism: I 'Never' Made A Deal With Santorum
"We had an excellent relationship," Specter said of himself and Santorum. "When his campaign for the Senate was in the doldrums in August of 1994, I put my whole campaign apparatus at his disposal."
He also said that he doesn't have a "litmus test" when it comes to his political support, noting that, while he is personally pro-choice, he has supported pro-life Supreme Court nominees like Antonin Scalia.
He made sure to clarify, however, that Santorum was not being truthful when he suggested to Romney that he had cut a deal with Specter, pledging to support him in exchange for Specter's support of President George W. Bush's judicial nominees:
That is flatly not true. We never had any such conversation. It would be improper to make a commitment on a vote before I knew who the nominee was and whether I thought the nominee was qualified. I've got a very strong reputation and a record behind it not to make deals like that.
Later, Specter characterized himself as an "independent," with Todd noting that he is, nonetheless, still a registered Democrat.
Have a look, via MSNBC:
Have a tip we should know? tips@mediaite.com