Arnold Schwarzenegger: 'Optimistic' That Maria Shriver And I Will One Day Be Together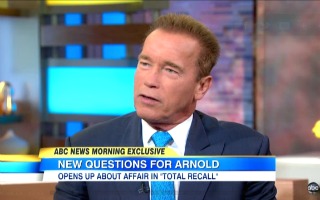 Former California governor Arnold Schwarzenegger appeared on ABC's Good Morning America Monday, where he was asked a bit about politics and, of course, about his extramarital affair, the details of which he recounts in his new book, Total Recall.
George Stephanopoulos kicked things off by asking Schwarzenegger whom he'll be voting for, with the actor saying only that he wants to keep an open mind and won't weigh in with his decision until "the last minute."
In sharing why he decided to write the book, the former governor spent much time recounting the early days of his career, including his successful stint in the bodybuilding circuit and the obstacles he faced making the transition into acting. He seemed hesitant and unwilling to directly address questions about how the affair impacted his wife, Maria Shriver.
As for his affair, Schwarzenegger called it "the worst thing I've ever done," because "it hurt so many people." When asked how he was able to keep Mildred, the family housekeeper with whom he'd had the affair, in his home, the former governor responded that matters grow worse when one tries to "get rid of people," and that he thought that he had handled it as best he could at the time.
He said that, in the aftermath of his actions, it "takes time" to rebuild trust with his family and with Shriver. Nonetheless, he holds out hope that he will be able to repair his relationship to Shriver, saying he's sure she hopes that "we can all be together." He said he also maintains a relationship to the son he fathered as a result of his affair.
Have a look, via ABC:
Have a tip we should know? tips@mediaite.com