Arnold Schwarzenegger Will Replace Trump as Celebrity Apprentice Host (UPDATED)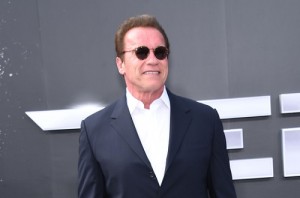 NBC announced on Monday morning that former Governor of California and actor Arnold Schwarzenegger will replace Donald Trump as the host of The Celebrity Apprentice.
Despite firing Trump in June following his campaign announcement's disparaging comments about Mexico, NBC president Bob Greenblatt said the network would continue the highly-successful show in the GOP presidential candidate's absence. This begged the question, who would fill the Donald's shoes?
The "Terminator" himself, Schwarzenegger is NBC's selected choice for the role:
Breaking: "Arnold Schwarzenegger has been named new host of NBC's 'The Celebrity Apprentice'"

— Brian Stelter (@brianstelter) September 14, 2015
According to an official statement via the network, Schwarzenegger expressed his fandom for The Celebrity Apprentice, especially its focus on "the challenges and triumphs of business and teamwork":
Per NBC, here's Arnold Schwarzenegger's official statement on being named new host of Celebrity Apprentice. pic.twitter.com/T9dGoApQ0v — Dave Itzkoff (@ditzkoff) September 14, 2015
Schwarzenegger, who initially achieved international acclaim via his bodybuilding and acting careers, built himself a veritable entrepreneurial empire on the west coast. The man knows his business, literally.
Whether or not Arnold will be able to use Trump's famous "you're fired" catchphrase remains to be seen, as the next season won't air until 2016.
UPDATE–2:06 p.m. ET: Trump congratulated Schwarzenegger on Twitter, writing that his "friend" will "be great & raise lots of $ for charity":
Congrats to my friend @Schwarzenegger who is doing next season's Celebrity Apprentice. He'll be great & will raise lots of $ for charity.

— Donald J. Trump (@realDonaldTrump) September 14, 2015
He subsequently offered an apology to fans of the show by way of explaining that his campaign prevents him from hosting The Celebrity Apprentice:
To all my fans, sorry I couldn't do The Apprentice any longer—but equal time (presidential run) prohibits me from doing so. Love!

— Donald J. Trump (@realDonaldTrump) September 14, 2015
There's also the matter of his being fired by NBC following his anti-Mexico comments and the controversy that resulted, but Trump refrained from mentioning it.
[h/t Variety]
[Image via Shutterstock.com]
— —
>> Follow Andrew Husband (@AndrewHusband) on Twitter
Have a tip we should know? tips@mediaite.com