Arrested WaPo Reporter to Scarborough: Put Down Your Starbucks and Come to Ferguson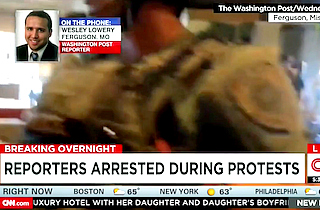 Washington Post reporter Wesley Lowery, who was arrested along with Huffington Post reporter Ryan Reilly in Ferguson last night, told Morning Joe host Joe Scarborough to cram it with walnuts.
Scarborough had scolded Lowery earlier in the morning, saying the reporter should have more readily complied with the officers. CNN's Kate Bolduan asked Lowery about Scarborough's comments on New Day, and Lowery did not hold back.
RELATED: WaPo Reporter Warned Ferguson Officer His Arrest Would Make Front Page; He Was Right
I would invite Joe Scarborough to come down to Ferguson and get out of 30 Rock where he's sitting sipping his Starbucks, smugly. I would invite him to come down and talk to the residents of Ferguson where I've been since Monday afternoon having tear gas and rubber bullets shot at me, having mothers and daughters crying, a 19-year-old boy crying — he had to run and pull his 21-year-old sister out from a cloud of tear gas, thinking she was going to die. I invite Joe Scarborough down here to do some reporting on the ground. Then maybe we can have an educated conversation about what's happening here.

[…] Let me be clear about this: I have little patience for talking heads. This is too important. This is a community, a community in the United States of America, where are things on fire. This community is on edge. There's so much happening here, and instead of putting more reporters on the ground we have people like Joe Scarborough running their mouth and have no idea what they're talking about.
Biff bang boom done.
Watch the clip below, via CNN:
[Image via screengrab]
——
>> Follow Evan McMurry (@evanmcmurry) on Twitter
Have a tip we should know? tips@mediaite.com