'Arrogant' or 'Gracious'? The Five Grades Sebelius' Obamacare Hearing Performance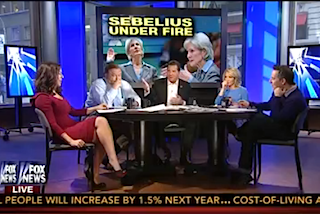 What did the hosts of Fox News' The Five think about HHS Secretary Kathleen Sebelius' performance at this morning's congressional hearing on the Affordable Care Act rollout? They did not hold back their judgment at the top of Wednesday's show, handing out letter grades that ranged all the way from B to F.
Eric Bolling began by quoting The Drudge Report, which called Sebelius "The Most Hated Woman in America," and said her appearance on the Hill was "distracted" and "arrogant."
Next up, Andrea Tantaros followed Twitter's lead, jumping all over Sebelius for her off-the-cuff "whatever" remark when she was asked if President Obama was "ultimately responsible" for the Obamacare rollout. "I thought it was a terrible testimony," she said. But again, Obama using a woman in his cabinet as a human shield, not shocking."
Though he would much prefer a single payer plan to Obamacare, and didn't even think she should have testified in the first place, Bob Beckel was willing to give Sebelius a B grade for her efforts. "I thought she showed some patience against the idiotic questions these guys asked," he said.
Meanwhile, Dana Perino shocked her co-hosts by saying, "I think there were some things to quibble about with her hearing, but I thought she did pretty well… She took responsibility, she was gracious, she didn't have any moments where she completely erupted." Despite all that, the best Perino could do was give her a "passing" C grade. For his part, Bolling weighed in with a failing F.
The thing that bothered Greg Gutfeld most about the hearing wasn't anything Sebelius said, but rather how the members of Congress repeatedly thanked her for testifying. "Why are we thanking her for doing her damn job?" he asked.
Watch video below, via Fox News:
And as long as we're handing out letter grades, why don't you weigh in?
[photo via screengrab]
— —
>> Follow Matt Wilstein (@TheMattWilstein) on Twitter
Have a tip we should know? tips@mediaite.com