Arsenio Hall Announces New Late Night CBS Show To Piers Morgan: 'I'm Going Home'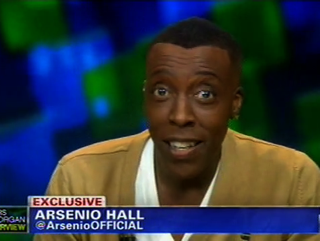 Fresh off his victory on Celebrity Apprentice, popular 90's late night host Arsenio Hall is ready to become a staple of the 2010s, he told Piers Morgan last night, with a contract to renew his old show at CBS– same time, same place. The show, set to begin airing fall 2013, will be "at the exact place I did The Arsenio Hall Show," Hall announced, explaining what it took to get a new contract.

RELATED: Trump On Birtherism: 'How Can I Be Racist, I Just Picked Arsenio Hall!'
Morgan congratulated Hall and noted that he too was hoping to see him on television long before the announcement, in which Hall explained that he was going back to the same show he left almost two decades ago. Hall thanked Morgan not just for the help in letting him substitute host Piers Morgan Tonight, but revealed that Morgan had helped him on Celebrity Apprentice, giving him one bit of advice: "read everything about Mr. Trump." "You have no idea how many times in a boardroom or a situation of business crisis I was able to throw a quote of his at him," Hall explained, "he would look at me and say 'this brother is ready!' I had my birth certificate, too."
Hall also discussed the process by which he got the show, which included talking to CBS a few years ago about it and increasingly proving himself on shows like Morgan's. "It let people see me do it and be reminded that I can," he concluded.
The interview via CNN below:

Have a tip we should know? tips@mediaite.com