Arsenio Unloads on Brian Williams for Overlooking Him, Gets Viewers to Call NBC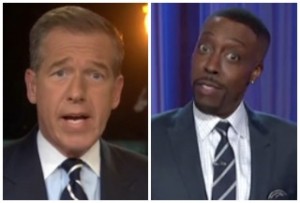 Late night TV's a big arena now. It's not just the big dogs (NBC, CBS, ABC) anymore, you've got plenty of cable networks (Comedy Central, E!) sharing the pot. And there's also Arsenio Hall, making a comeback on the late night scene, and last night Hall took Brian Williams to task for leaving the only black man in late night out of a recent report on the ever-changing late night landscape. In a report Monday previewing the new Jimmy Fallon-helmed Tonight Show, Williams noted how broad the late night landscape has become, but one face was noticeably missing…
Hall showed a New York Times cover on late night that excluded him ("Brown ink is more expensive, maybe"), but wasn't as bothered by that as he was by the nine white faces Williams used in his report. (Especially Andy Cohen, which… I mean, really.) Hall said they could use photos of whatever black man they can find, to make it easier, just as long as they give him a little mention.
After all, he pointed out, "I actually am the only guy who competed and survived against Johnny Carson, and I'm not up there!" Hall attracted a young audience when he started up in 1989, carving out a nice niche for himself in late night as the "cooler" alternative to guys like Carson. But Hall didn't want to be the "angry black man," so he brought on Suge Knight to do it for him.
Hall even attempted to call NBC to get to the bottom of this, and when this didn't work, he actually read off an NBC number and told his audience to call. And some people already have.
@ArsenioHall I tried calling Brian Williams but its busy. I will continue 2try 2reach him. Keep up the good work & I love the show. #arsenio

— April Ratcliff (@arr782) February 19, 2014
Called Brian Williams and got a shut down VM. I'll stick with our man on the West Coast! #Arsenio

— Mark In Nor.Cal (@Mark_In_NorCal) February 19, 2014
called da number n they say assumin its one of brians reps didnt ask n they say well look into it haha buncha BS if u ask me #arsenio

— steve shabazz (@timmy112) February 19, 2014
You can watch Hall's monologue below, via The Arsenio Hall Show:
And you can watch Williams' original report here, via NBC News:
[h/t NewsBusters]
[photo via screengrab]
— —
Follow Josh Feldman on Twitter: @feldmaniac
Have a tip we should know? tips@mediaite.com
Josh Feldman - Senior Editor