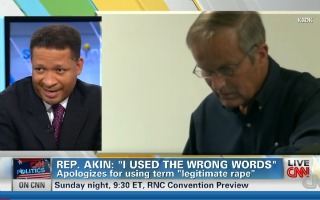 Former Alabama congressman Artur Davis stopped by CNN's Starting Point on Tuesday, where he weighed in on the controversy swirling around Missouri senatorial candidate Todd Akin's recent comments about "legitimate rape."
RELATED: RNC Chair Denounces Akin's 'Biologically Stupid' Comments, Asks Him To Skip GOP Convention
After calling Akin's comments "wrong and foolish," Davis opined that Akin is "not going to win this race and it's very possible that he could cost Mitt Romney this state," adding that his "are beyond the pale" and "incredibly offensive to women all over the country."
"Well, he's such an incredible distraction at this point," he continued.
Republicans have a wonderful chance to win Missouri. President Obama I believe won Missouri narrowly four years ago. The Missouri economy is not in good shape. Senator McCaskill has voted in lock step with President Obama and that's going to hurt her. Well, if the next four months are spent talking about the remarkably dumb comments that Akin made a few days ago, that certainly is going to hurt the prospects for Republicans.
"Is it a question of misspeaking, or do you think the substance of his comment?" asked panelist Margaret Hoover.
Davis responded:
I think the substance is wrong and the misspeaking, very clear about this. I don't think there is any state capital in America or any set of politicians in America smart enough to tell a young woman what to do if she's been brutalized and raped.

Now that's my opinion. Some people may disagree with that. I think there are many pro-life Americans like the guest you had on earlier — There are many prolife Americans who firmly disagree with what Todd Akin said. His position is not reflective of the pro-life community.
When talk turned to delineations among and definitions of different "types" of rape, Davis repeated that Akin's comment was "dumb" and offensive, and that it did not reflect the pro-life movement, nor has a Republican publicly come out in support of his statement.
Watch, via CNN:
Have a tip we should know? tips@mediaite.com