As Many As 19 Injured In Shooting At New Orleans Mother's Day Parade, No Deaths Reported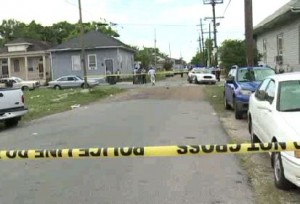 Life-threatening violence ripped through a celebration of life-givers Sunday, when several gunmen opened fire at a Mother's Day parade. Reports from local media place the casualty count as high as 19, but in a bit of relatively good news, no deaths have been reported. Police say there were either two or three shooters, who fled the scene. No one is in custody at this time.
From New Orleans Fox affiliate WVUE:
The NOPD is investigating a shooting near the intersection of Frenchmen and North Villere Streets that left 19 people injured during a Mother's Day second line.

Chief Serpas announced in a press conference that the youngest victim is believed to be a 10-year-old girl. Police say she suffered a graze wound. A police spokeswoman later stated that many of the victims suffered graze wounds by ricocheting bullets. As of Sunday evening, there are no fatalities and most of the gunshot wounds are non-life threatening.

Police say about 300 people were attending a second line when gun shots rang out.

Police are looking for three suspects in this incident.
CNN is reporting 18 injured, but also no deaths:
According to police, 18 people were injured in the shooting, including two children. Ten men and six women were among the victims.
Shots were fired from different guns, and officers saw three suspects running from the scene, police said.

No suspects are in custody.

"This is an extremely unusual occurrence, and we're confident that we will make swift arrests," said Remi Braden, a police spokeswoman.
Watch the report below via WPIX-NY:
Have a tip we should know? tips@mediaite.com