As Shutdown Looms, The Five Hails Ted Cruz's 'Brilliant Strategy' on Obamacare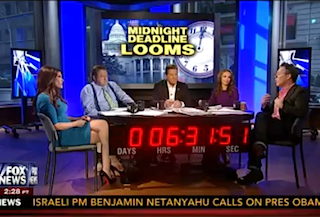 With less than 7 hours to go until a potential government shutdown and more Americans saying they will blame Republicans if it comes to pass, the hosts of Fox News' The Five maintained that Sen. Ted Cruz (R-TX) made exactly the right political move when they refused to fund the government without defunding or delaying Obamacare.
Eric Bolling brushed off the government shutdown as something that might last a couple of days without any real consequences for President Obama, Congress of the American people. But despite all of that, he said "this is brilliant strategy by Ted Cruz, Rand Paul and the other people on the far right." Because they were seen so visibly fighting back against the Affordable Care Act, when it "fails like everyone thinks it will," Bolling believes Republicans will win big in the 2014 midterm elections.
Bob Beckel didn't quite see it that way, saying that Americans don't dislike Obamacare nearly as much as the polls shown on Fox suggest. "Tomorrow, when people get up, the vast majority of their health care will not change one bit," he said. "You've all told them the sky is going to fall and it's not."
Filling in for Dana Perino, Jedediah Bila argued that this fight has been a victory for conservative Republicans because it has "inspired" Republican voters who stayed home in 2008 and 2012. Senators like Cruz and Mike Lee (R-UT) "ran on Obamacare repeal and they made it their priority. Those voters feel that they have someone in the GOP that they can count on."
Beckel said the best thing Republicans could do for Democrats in 2016 is nominate Cruz for the presidency. "No matter what happens in the end," he concluded, "no matter what happens, the Republicans will lose."
Watch video below, via Fox News:
[photo via screengrab]
— —
>> Follow Matt Wilstein (@TheMattWilstein) on Twitter
Have a tip we should know? [email protected]