As George Zimmerman Prosecution Implodes, A Media Invested In His Guilt Grows More Shrill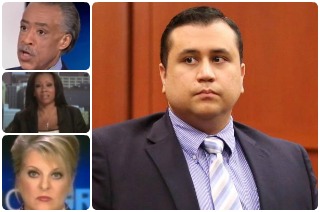 "It's dangerous for America the way were doing this as a trial in the media with the whole nation as jury." This observation about the trial of George Zimmerman for the murder of Florida teen Trayvon Martin in 2012 by MSNBC host Touré was as true when he made it, in March of last year, as it is today. Too few, it seems, have taken his advice to heart.

Since the Zimmerman trial began, the instant analysis of the nationally televised case – meriting near wall-to-wall coverage on the cable news outlets – has not been favorable to the prosecution. State witness after state witness has had their credibility impugned or introduced reasonable doubt that Zimmerman's actions may not meet the threshold necessary to convict him for second degree murder. And as the state's case against Zimmerman grows thinner, the tone of those in the media who have invested a significant portion of the last 16 months in an effort to indict him in the court of public opinion has grown more caustic.
This phenomenon began on June 28 after the prosecution's star witness and Martin's friend, Rachel Jeantel, took the stand to testify that she was on the phone with the deceased teen when fatal fight with Zimmerman began.
Her testimony was nothing short of a disaster for the prosecution. She was combative, she was reprimanded for being contemptuous of the proceedings, she admitted to reversing assertions made in deposition, and she introduced the fact that Martin had racially profiled Zimmerman (disclosing that Martin had used the slur "cracker" to describe him).
It was then that the media commentators invested in Zimmerman's guilt went on the defense. MSNBC contributor Goldie Taylor – one of the first media commentators to don a hooded sweatshirt to protest Martin's unnecessary murder — told MSNBC host Karen Finney on Tuesday of last week that Jeantel was not only not discredited, but she has as much credibility, "speaking from her cultural lens," as a "Ph. D."
Taylor said that "unfortunate voices online" and "across other networks" had attacked Jeantel's ability to be articulate her thoughts as well as her physical features. Taylor later clarified in a tweet that she was not referring to any television networks and "other networks" only applied to social media outlets.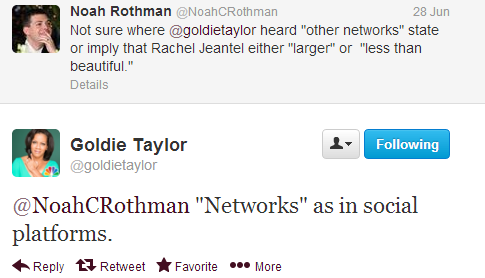 Furthermore, Taylor told Finney, it appeared to her that it seemed possible to her that Zimmerman had intentionally gained tens of pounds in order to appear less threatening to the jury.
"The commentators have made strong points about the various witnesses and have for the most part stayed away from ridiculous speculation and bombast. Until now," The Washington Post's Erik Wemple wrote in reaction.
This was just the beginning.
"At the outset, he is the aggressor," Nancy Grace said of Zimmerman in April, 2012. "You can't claim self-defense if you are the aggressor."
"We want justice," she declared then. Today, however, when any exculpatory assertion on Zimmerman's behalf is made, Grace is less interested in justice than in attacking the messenger.
On Monday evening, Grace lit up a spokesperson for Zimmerman who claimed that the defendant felt fear for his life during the physical altercation with Martin. Grace expressed over-the-top incredulity of this assertion and cut straight to commercial when in-house legal expert Matt Zarrell backed up the Zimmerman spokesman's claim.
Then, of course, there is MSNBC host and activist Al Sharpton. The reverend has comported himself in an especially unfortunate way since Martin's shooting and did much to turn the case into a national phenomenon in the first place.
Departing from the anchor chair, the MSNBC host held rallies in Florida agitating law enforcement to arrest and charge Zimmerman with murder. He hosted countless hours of speculative coverage on his program examining every angle by which the state could convict Zimmerman of this or a lesser crime. Now, as the case against the defendant grows shakier by the day, he has taken to impugning the characters of the prosecution's witnesses for delivering insufficiently damning testimony against Zimmerman in court.
"[Investigator Chris] Serino can't say [Zimmerman] was lying," Sharpton said on Monday of the detective who interrogated Zimmerman after he shot Martin. "Serino's not saving George, he's saving himself."
The fun did not end there.
"[A fact that] I think a lot of people – my colleagues in the media – is missing," Sharpton continued. "You're telling me you're a watchmen that was training in martial arts, knew you had a gun, and you couldn't' do anything but shoot to kill this guy – a 17-year-old kid can come and hit you two or three times and the only thing you can do is try to kill him? What happened to your martial arts training?"
Sharpton's guest surmised that Zimmerman was probably not an especially great student in his martial arts class.
Clearly, the public is more sophisticated than some members of the media believe. The way in which baseless speculation motivated by personal bias is packaged to appear to be analysis is as transparent as cellophane. It is insulting and it is detrimental to the future of the business of television journalism.
"When some future PhD candidate is doing his dissertation on the total collapse of American news gathering and journalism in the twenty-first century, they'll cite the coverage of this murder a lot," National Review's Jim Geraghty wrote Tuesday.
Trayvon Martin did not deserve to die, but it is not the media's job to convict his killer of malicious murder. The media should heed Geraghty's warning and reverse course.
> >Follow Noah Rothman (@NoahCRothman) on Twitter
Editor's note: This post has been republished from an earlier date – Jon Nicosia
Have a tip we should know? tips@mediaite.com