Ashleigh Banfield Chastises Fired GOP Chair For Calling Her 'Loud-Mouthed Bitch'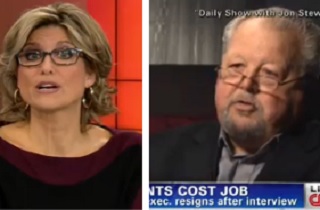 Now-former Buncombe County, NC precinct GOP chair Don Yelton has become famous this week for being fired over comments he made on Comedy Central's The Daily Show, but on CNN's Legal View Friday morning, Yelton faced the music for a different offense. Anchor Ashleigh Banfield played part of a radio interview in which an unapologetic Yelton says he's "embarrassed that they (the county GOP) don't stand up and fight for what's right," to which Banfield added "Okay, Mr. Yelton, I'm going to stand up and fight for what's right."
"In September, on your Facebook page, you called me a loud-mouthed bitch," Banfield continued. "Can we please, as politicians, as human beings, tone it down? Come on."
Yelton did, indeed, use the phrase in question on his Facebook page, on September 30:
listen to this and learn ow to deal with a loud mouthed bitch who suffers from anterior upas posterior. The real question is whose posterior. I think we know Obama.
The post linked to a Newsbusters article on this segment, in which Banfield interviews GOP Reps. Dana Rohrabacher (R-CA) and Marsha Blackburn (R-TN) over the then-impending government shutdown.
Several months prior to his Daily Show comments and subsequent firing, Yelton also expressed support for a particular gun control measure:
Also since most murders are Black on Black let cut federal funding to any state that does not make it illegal for a black to own a gun. then we would not need stand your ground over 70 plus percent of the time.
Here's the clip, from CNN's Legal View:
Have a tip we should know? tips@mediaite.com