Ashleigh Banfield Clarifies Remarks On Homosexuality: 'Lifestyle Choice' Was 'Not What I Meant To Say At All'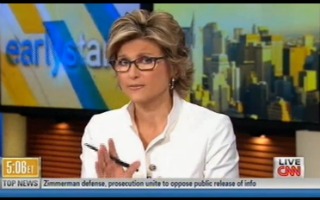 Yesterday, CNN Early Start anchor Ashleigh Banfield raised eyebrows and questions alike over her comment that homosexuality is a "lifestyle choice," as opposed to things like pedophilia and incest, which she described as "often" not being choices. The anchor had been responding to a segment on Pastor Curtis Knapp and his statement that the government should put gay individuals to death.
RELATED: CNN's Ashleigh Banfield: Pedophilia, Incest Often 'Not By Choice,' But Being Gay Is 'A Lifestyle Choice'
Early Friday morning, Banfield took a moment to address and clarify her remarks:
I made some comments yesterday that ended up getting a lot of traction out there, not only on Twitter but elsewhere. And I want to be very, very clear about what my comments were about. I probably misspoke and mangled words, but I want to be very clear.

When I said that incest and pedophilia involve people who don't have a choice — victims who don't have a choice — and then said a gay relationship, you do have a choice, they are not crimes. Gay people involved in relationships are not committing any crimes at all. However, those who perpetrate incest and perpetrate pedophilia are committing crimes. I don't know that my comments were taken in that light and I certainly hope they were, but in no way did I ever want to suggest that being gay is a choice. It is not. And I probably used the word "lifestyle choice" — not what I meant to say at all. Being gay is not a choice; being in a voluntary gay relationship is a choice. It is not a crime. So I hope that at least clears up any of the comments I made after that story of the pastor. And in no way do I agree with or stand by any of the comments that that pastor made either.
Have a look, via CNN:
Have a tip we should know? tips@mediaite.com