Ashley Madison CEO Tells Soledad O'Brien Why He's Trying To Buy Up Rush Limbaugh's Abandoned Advertising Space
Pro-Adultery Website CEO Explains Why He's Trying To Buy Limbaugh's Ad Space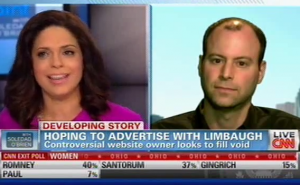 Noel Biderman, the CEO of Ashley Madison, an affair-encouraging business that pairs up men and women who are already in relationships, was a guest on Starting Point Wednesday morning, discussing his plans to buy up abandoned advertising space on Rush Limbaugh's radio program.
"I actually did not believe this existed," host Soledad O'Brien revealed, as she introduced Biderman. She then asked how much of the advertising space Biderman planned to buy up.
"We're totally willing to step into the void left by other advertisers," Biderman said, pointing out that Limbaugh has 10 million listeners. "If it costs two or three million dollars, happy to pony up."
O'Brien then asked why Ashley Madison wanted to pair up with Limbaugh as an advertising partner, considering everyone else is fleeing from him.
"Listen, blue and red states, people cheat in both of them," Biderman said. "Republican, democrat, men, women — everybody is prone to having an affair. So the bottom line is, my audience sits with his audience and I'm happy to advertise to them."
"But you've been turned down before by that show," O'Brien said. "You've been turned down on moral grounds. Is there any indication that they're going to take you up on your offer, even with the 20 or so odd advertisers who are leaving?"
"You know, he's in business, just as I am," Biderman explained. "Being in business, he needs to operate and I'm there to support that business operation if he wants those dollars."
O'Brien then asked if Biderman had a position in the Limbaugh-Sandra Fluke battle. He deftly explained that personally, "my vote would go with Sandra's position," but, as a business operator, he support's Limbaugh's right and ability to say what he wants. He then took a shot at some of the fleeing advertisers. "Netflix, other people pulling out from their advertising — who do they think they're advertising on in the first place? You need to know your medium, and it doesn't sound like most people do."
After O'Brien let Biderman go, Newark, N.J., mayor Cory Booker, a studio guest on the show, tore into…someone. Likely both Biderman and Limbaugh.
"The level of shamelessness in our country is getting frustrating to me," Booker said. "It's sickening. I would rather see advertisers leaving. We should leave. We should be voting with our feet, but we seem to give attention to people the farther they push the envelope. We as Americans shouldn't let cynical businesspeople take advantage of us in this way."
Watch a clip of the interview below, courtesy of CNN:
Have a tip we should know? [email protected]