Assange On CNN: Convicting Bradley Manning 'Will Be The End Of National Security Journalism In The United States'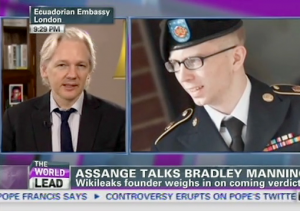 The fate of ex-Army private Bradley Manning will be decided tomorrow, and if he is found guilty of aiding the enemy by releasing a trove of documents to WikiLeaks, he could face prison for life. WikiLeaks founder Julian Assange weighed in on the potential verdict on CNN today, telling Jake Tapper that the way the government has gone after Manning presents a very dangerous precedent to journalists seeking to expose government secrets, leading to what Assange said would be "the end… of national security journalism in the United States."
RELATED: Julian Assange Praises 'Hero' Snowden, Rebukes U.S. 'Disgraceful' Treatment On ABC This Week
Assange told Tapper there's been "lots of spin" from the government about the consequences of Manning's actions, even the assertion that the information he released would put Americans at risk. Assange said that narrative was proved to be "entirely false" and claimed that Manning's information led in part to the events of the Arab Spring.
Tapper asked if all that was "worth" the rest of Manning's life. Assange acknowledged "it's not my place," but stated that Manning "was willing to take that risk" because he believed in what he was doing. In response to assertions by members of Congress that fellow whistleblower Edward Snowden gave information to Russia and China, Assange said, "They farm out fear to make it look like they're doing good work for the people who give them donations."
He called the decision to cancel Snowden's passport "idiotic" and pledged to do whatever possible to defend Snowden and make sure that no state can "exploit" him. Barry Pollack, Assange's lawyer, warned of the "tremendous risk" Assange faces if he leaves the Ecuadorian embassy in London, considering how the U.S. government has been treating Manning like a "traitor" and an "enemy."
Assange found the government's entire prosecution of Manning to be troubling, but particularly the "aiding the enemy" charge.
"It is the most serious attack that the administration is pursuing in its war against investigative journalism. It will be the end, essentially, of national security journalism in the United States."
Watch the video below, via CNN:
—–
Follow Josh Feldman on Twitter: @feldmaniac
Have a tip we should know? tips@mediaite.com
Josh Feldman - Senior Editor