At Democrats' Request, Even Mike Bloomberg Is Giving up on Gun Control
Rothman: At Democrats' Request, Even Mike Bloomberg Is Giving up on Gun Control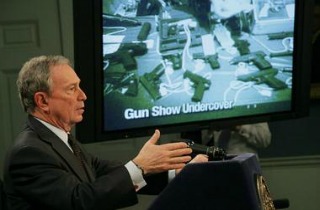 After donating $2.5 million to the Democratic Senate Majority PAC, America's favorite Democrat-turned-Republican-turned-independent, former New York City mayor Mike Bloomberg, is signaling that his great crusade against guns is running out of steam. The need for new gun laws that was so pressing in 2013, and that Bloomberg and his organization, Mayors Against Illegal Handguns, lobbied so hard for, is apparently no longer so acute.
When he was not belittling or cajoling gun control's foes, Bloomberg spent the better part of 2013 agitating for stricter gun laws. As recently as December 14, the first anniversary of the massacre in Newtown, both Bloomberg's group and President Barack Obama's political arm, Organizing for Action, sent out messages to their supporters insisting that the need for stricter gun laws is no less critical today than it was one year ago.
But their actions speak differently. The president and Democrats were happy to support Bloomberg's opposition toward the proliferation of firearms so long as it was not principled. However, when Bloomberg's group released an ad targeting Sen. Mark Pryor (D-AR) over his opposition to new gun ownership restrictions, it became clear that Bloomberg was actually serious about this public policy initiative. So serious, in fact, that he would go as far as to challenge an embattled Democratic incumbent whose loss in November could help hand control of the U.S. Senate over to Republicans. This could not stand.
"There had been information that I had as recently as two weeks ago that he was resisting pressure from both [Sens. Charles] Schumer (D-NY) and [Harry] Reid (D-NV) to defend Mark Pryor, or not to attack Mark Pryor, on the gun issue," MSNBC host Andrea Mitchell said of Bloomberg's latest move on Tuesday.
Mitchell observed that Bloomberg had previously appeared to be "single issue focused on guns at the risk of jeopardizing Senate for Democrats." TIME Magazine reporter Mark Halperin confirmed that Bloomberg not only resisted pressure from the two highest ranking Democrats in the Senate, but also former President Bill Clinton, who asked Bloomberg to temper his enthusiasm for attacking politicians who oppose stricter gun laws if those politicians happen to be Democrats.
Halperin added that, while there are many Democrats in the Senate up for reelection this year, they all enjoy some advantages; including strong fundraising, weak Republican challengers, and incumbency itself. These incumbents, he insisted, may hang on in November in spite of six-year midterm headwinds, but attacking these Senate Democrats from the left could imperil them by reducing the base's enthusiasm.
CNN reports that the Democratic Super PAC to which Bloomberg donated millions has already gone up with ads in support of some of this election cycle's most embattled Senate Democrats, including Pryor, Kay Hagan (D-NC) and Mark Begich (D-AK). Each voted "no" on a resolution that would have banned high-capacity magazines in April of last year. Thus, Bloomberg has financially rooted himself on both sides of the guns issue.
Message received: the most important public policy challenge of 2013 was not all that important after all, at least when directly balanced against Democratic control of the upper chamber of Congress. Furthermore, even the most principled among us can be moved to abandon their cause so long as the pressure is intense enough.
Where does that leave the grassroots Democrats who were so convinced by their party's representatives that blood will flow in the streets unless the Congress takes action on gun control? Well, maybe they will get a conciliatory call from Bill Clinton, too.
Watch the clip below via MSNBC:
[Photo via Edward Reed/NYC Mayor's Office/AP]
— —
> >Follow Noah Rothman (@NoahCRothman) on Twitter
Have a tip we should know? tips@mediaite.com