Atheist Penn Jillette and a Catholic Priest Give 'Civility Lesson' on MSNBC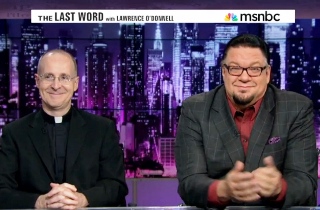 In response to Sen. Tom Coburn calling Sen. Harry Reid an "absolute asshole," MSNBC's Lawrence O'Donnell decided Tuesday evening to use a famous atheist and a priest to show Congress how "civility" is done.
O'Donnell enlisted Father James Martin and atheist author/entertainer Penn Jillette to argue their sides without resorting to name-calling or uncivil behavior.

"I respect your opinion," the father told Jillette. "I think it's hard to convert people other than to invite them to have an experience with God." The priest conceded that conversion would be impossible within a 5-minute span.
Jillette recalled how his old Showtime series Bullshit! repeatedly "attacked" Christianity; and he was surprised by how he was often met with "gentle sweetness" from his religious friends. He added that the gentleness of religious people like his own father actually encouraged him to explore his atheism further.
"Do you feel threatened by atheism?" O'Donnell asked the father.
"No," he replied, recounting the times he's seen his own religious colleagues go through a crisis of faith. "It's perfectly reasonable for people to think [there's no God] and it's important to accompany them and not hit them over the head because, really, that does no good."
Asked whether atheism is presented in an "overly-aggressive way," Jillette said: "Of course. Everyone's got their own personality and their own way of talking. But what's most important is that people actually talk about it."
"The one kind of person I have a lot of trouble understanding is the kind of person that says the existence of God or religion doesn't matter, it's not an important decision," he concluded. "I think it's vitally important; it's what all our lives are based on."
Watch the full segment below, via MSNBC:
— —
>> Follow Andrew Kirell (@AndrewKirell) on Twitter
Have a tip we should know? tips@mediaite.com