Atheist Targets 9/11 Cross At Ground Zero, Seeks to Have Atheist Symbol Included In Memorial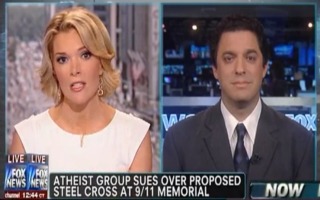 The president of an Atheist group appeared on Fox News Channel with Megyn Kelly on Friday to denounce the inclusion of the 9/11 cross in the memorial at Ground Zero to the exclusion of other, non-religious religious symbols.

American Atheists President David Silverman said that the cross at the 9/11 memorial at Ground Zero is in a museum paid for by public funds and amounts to the endorsement of Christianity by the government.
Silverman outlined the many ways in which the 9/11 memorial was public. "And they have the gall to say that this is not a public event? Well, we differ," said Silverman. He said that atheists suffered as much as anyone on 9/11 and they demand representation.
"But you did not have a symbol that was found in the wreckage of Ground Zero," noted Kelly.
"That's because there are no symbols of atheism," said Silverman.
He said that a number of crosses were recovered from Ground Zero because the original World Trade Center was assembled from cross beams. "That does not give Christianity the right to usurp the rest of the nation and to have a memorial solely to itself in our national memorial," said Silverman.
"We find the assertion that it is not religious to be insulting to our intelligence," said Silverman of the WTC cross. "We are not demanding that the cross be removed. We are demanding equal representation."
"You want a big A in the museum," said Kelly.
"We want something but they will not allow us because of bigotry," Silverman replied.
Kelly challenged Silverman's assertion that many atheists were suffering from "dyspepsia" and "headaches" because of the cross. Silverman said that he had members who would testify in court that this was the case.
Watch the segment below via Fox News Channel:
> >Follow Noah Rothman (@Noah_C_Rothman) on Twitter
Have a tip we should know? tips@mediaite.com