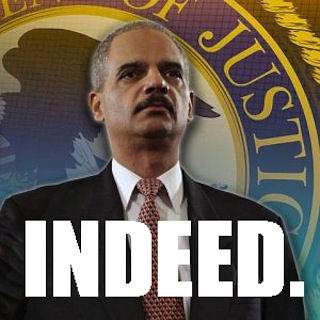 Finally someone in the government is standing up and fighting the good fight. Reuters is reporting that, yesterday, Attorney General Eric Holder appeared at an event in the Justice Department with actors from The Wire where he used scenes from the series to illustrate the need to protect children from "endangered by drug abuse." While there, Holder ordered the writers of the series to make another season, a statement that is sure to garner support across party lines for, as we all know, if you don't love The Wire, you're not a real American.
The event featured actors Wendell Pierce, Sonja Sohn, and Jim True-Frost, otherwise known as Bunk Moreland, Kima Greggs, and Roland Pryzbylewski. However, Holder directed his comments at the show's main creative forces, David Simon and Ed Burns.
From Reuters:
"'I want to speak directly to Mr. Burns and Mr. Simon: Do another season of "The Wire",' Holder said, drawing laughter and applause from the audience. 'That's actually at a minimum. … If you don't do a season, do a movie. We've done HBO movies, this is a series that deserves a movie. I want another season or I want a movie. I have a lot of power Mr. Burns and Mr. Simon.'"
Laughter from the crowd? How dare they. This is a serious discussion about saving America's television. You want to help discredit American exceptionalism? Then keep The Wire off the air while Two and a Half Men keeps chugging along. You know what they say about HBO? It's not TV. It's a fight for America.
Of course, some could say that the series had a completely satisfying ending and that much of the people behind it are busy working on the also-excellent Treme. Besides, doing a movie would be completely against the show's slow-burn storytelling style. I mean, is George Pelecanos gonna come in and write the extremely depressing penultimate 10 minutes?
Still, maybe we shouldn't question The Wire's ability to continue. We need to be brave and put our trust in Simon. Though this nation has proudly thought of itself as Wire fans, in things season six we have always been and continue to be, in too many ways, essentially a nation of cowards.
(h/t The A.V. Club)
Have a tip we should know? tips@mediaite.com