AG Eric Holder Talks Terrorism On GMA: Be Prepared For "Potentially Bad News"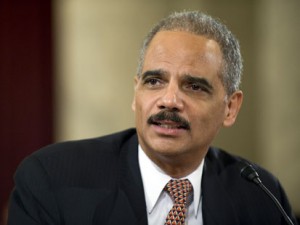 Attorney General Eric Holder provided ABC's Justice Correspondent Pierre Thomas with what was touted as a "rare" interview. And that's certainly an accurate description, but given Holder's seriousness and eloquence on the terror issue, which was uniquely on display here, it's a wonder why Holder is not speaking to the public more often. Holder passionately defended the Obama administration's counter-terrorist strategies from the very real threat.
Holder elaborated on his constant fear:
The threat has changed from simply worrying about foreigners coming here, to worrying about people in the United States, American citizens, raised here, born here, and who for whatever reason, have decided that they are going to become radicalized and take up arms against the nation in which they were born.
Given the influence of Anwar Al Awlaki, an American citizen who has inspired many Muslim Americans to pursue terror plots in the US, Holder believes Awlaki to be "on the same list with [Osama] bin Laden . . . of the people who worry [him] the most." Thomas tried to pin Holder down on his preference for killing, capturing or prosecuting Awlaki and Holder realistically said that he's just most concerned with "neutralizing" him.
Although some may frown upon Holder's warning to Americans that they "have to be prepared for potentially bad news" as an unnecessary scare during the holiday season, many would prefer transparency about the threat and the government's steps towards combating it. In a week when Republican Representative Peter King was questioned whether he was a bigot for raising alarm bells about the increase in homegrown terrorism, Holder's similar concerns should provide comfort to many that at least on the most important issue of protecting Americans from terrorism there is bipartisan cooperation.
Watch the clip from ABC's Good Morning America below:
Have a tip we should know? tips@mediaite.com