Attorney General Loretta Lynch Denies Ever Speaking to Obama About Hillary's Email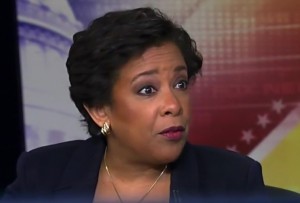 As the FBI comes closer to completing its review of State Department email procedures, the media has tried harder and harder to shake loose something new about "Emailgate," and on this week's Fox News Sunday, it was host Chris Wallace's turn to give it the old college try.
At the end of an interview with Attorney General Loretta Lynch about the aftermath of the Orlando mass shooting, Wallace asked a series of questions about the probe, including whether or not Lynch thought President Obama's endorsement of Hillary Clinton created a "conflict of interests" and whether she discussed the matter with Obama during a recent White House meeting. Wallace also cleverly baited Lynch to confirm or deny that the investigation is criminal in nature, but Lynch didn't bite:
Wallace: Is this a conflict of interest for you?

Lynch: No, it's not for me or anyone in the department. We will do the work the same way that we have for the American people first and foremost.

Wallace: The first day that Clinton was endorsed, you met with the President at the White House. Did you any way shape or form discuss it with the President?

Lynch: We have never discussed the case. I have never spoken about it with the White House or the President. That's not the relationship that I have with people and it would be inappropriate to do that.
As of this writing, Hillary Clinton says she still has not been contacted by the FBI to set up an interview.
Have a tip we should know? tips@mediaite.com