Attorney Mark O'Mara Talks Zimmerman Truck Rescue To CNN: This Was 'Quintessential George'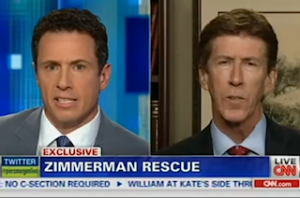 George Zimmerman's defense attorney Mark O'Mara was back on TV Monday night, this time to discuss his client's apparent act of heroism last week when he reportedly pulled someone from an overturned truck. O'Mara spoke to New Day's Chris Cuomo, who was filling in for Piers Morgan.
"This is quintessential George," O'Mara told Cuomo, "Always involved in the community, always willing to lend a helping hand. And here we go, four days after the event, something that I could not have planned but turned out to be just pure George." O'Mara said he was surprised that Zimmerman ventured out into the Sanford community so soon after the acquittal, "but that's how he is."
The attorney also offered some insight into how Zimmerman is handling the backlash from so much of the country to his acquittal. "He was sort of surprised at the blow back to the verdict," O'Mara said. "He thought that finally America had gotten a chance to hear all of the facts about the case, and to hear the whole trial, and that they would understand what really happened that night, and that it was truly self-defense. And to hear a lot of the anger that has come since the verdict has surprised him." He acknowledged that threats to the Zimmerman family have increased since the verdict came back.
Reacting to President Obama's speech Friday concerning the trial, O'Mara called it "inappropriate" to suggest that he could have been Trayvon Martin 35 years ago, but could admit that the larger conversation about race is one "that we need to have."
"My frustration has always been," O'Mara elaborated, "we're using the George Zimmerman case as the focus point for that, when this was not a racial event. George was more provably a non-racist than most people."
Watch video below, via CNN:
—
>> Follow Matt Wilstein (@TheMattWilstein) on Twitter
Have a tip we should know? tips@mediaite.com