Autopsy Report? Fox Panel Clashes Over Whether Media Bears Responsibility For GOP's 'Scary' Image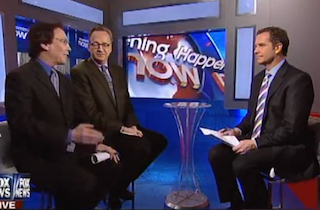 "Do the media…bear any responsibility for the Republican Party's image?" Thus was the question Fox News host Jon Scott posed to his panel on Monday. In light of the RNC's so-called autopsy report, the discussion questioned whether the media has focused too much on the Republican Party's negative side.
Alan Colmes wasn't on board with blaming the media for the party's own troubles. Remarking on RNC chair Reince Priebus' "candid" assessment of the GOP's problems, Colmes said if Democrats had made some of the infamous comments some Republican candidates did, the press would have gone after them too.
"Stuffy old men" is the phrase that keeps popping up in every headline about the GOP's autopsy report, Jim Pinkerton noticed. "Every headline you see for the next two days will be 'stuffy,' 'crabby,' 'scary,' whatever."
The Republican Party has bounced back several times after suffering defeat, Pinkerton went on to argue, telling Colmes, "There's a story of rebuilding going on here, and something tells me your friends are not going to pick up on."
"The story isn't, 'We've seen it before,' the story is, 'Here's what Priebus said now,'" Colmes countered. "There are a number of things in that report that do not make the Republican Party look great, but I think that, to his credit, he was very candid about it."
But is the press focusing too much on the negatives? Scott asked. "Alan gives the Republicans credit for discrediting themselves," Pinkerton argued. The report "is a rebuilding document" — there's a larger context the media is ignoring.
Colmes insisted that the news is that Priebus is being so open and critical about his own party, leading Pinkerton down the same line of reasoning about rebuilding angle. "It's how brutal Priebus was about his own party," Colmes repeated.
In 2016 then, Scott interjected amid their crosstalk, "should we look forward to stories about how a new crop of Republican candidates energized by, you know, party's research is coming in?" Colmes replied that a new crop would serve them well, pointing to coverage about Sen. Rand Paul's filibuster and his winning the CPAC straw poll.
On that point, they all seemed to agree.
Take a look, via Fox News:

Have a tip we should know? tips@mediaite.com