'Avoid Sequestration Or Castration': Maddow, Leno Take On Gov't Dysfunction, CPAC Snubs, And Jeb Bush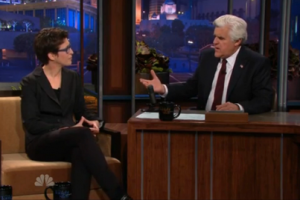 On Monday night, MSNBC host Rachel Maddow paid a visit to Jay Leno, talking about some of the much-discussed political topics of the moment. The pair began, of course, with the sequester, lamenting Washington's inability to be productive. But the left enough time to tackle Jeb Bush and CPAC, too.
Sequester cuts were "designed to be stupid," she asserted — to be so horrifying that Washington wouldn't let them take effect. But we did it anyway: "Awesome. This is how the greatest nation on earth governs itself."
Leno offered up some motivation that might work better, suggesting, "Avoid sequestration or castration." With that, he segued to Obama's recent meetings with Republicans, questioning whether it's simply "political theater" or if anything's getting done. Maddow answered yes to both.
They might actually be able to make progress, she explained, because the president is meeting with rank-and-file Republicans and seeing that the GOP leaders haven't actually been telling them much. Legally, Leno replied, offering another solution, they should be required to have dinner at least twice a month.
Moving on from sequestration talk, the pair tackled CPAC. Specifically, those who were snubbed. "It's hard to see where the future of the conservative movement is if it's not Chris Christie, but it might be Donald Trump," she quipped. "But who am I to judge? Go for it, you guys."
Leno, too, was baffled by Christie's absence. "He is not pure," Maddow explained, adding that the GOP has been "purifying" since the Bush/Cheney days.
Speaking of Bush… there's the topic of Jeb Bush and immigration. "He's completely changed his mind" on immigration, Maddow asserted, noting the difference in his more progressive remarks versus what he outlines in his new book. It's a bad sign, she said, when you have to give up the point that made you "interesting" in order to run for office.
But the digressed. Next on Leno's list of current events was Osama bin Laden's son-in-law, who some said should have been tried in Guantanamo Bay, but was in a New York court instead. Understand both sides of the argument, Maddow said there was satisfaction in seeing him come to New York and face the American justice system and be convicted and put away under that system.
"I hate to see New York become the target," Leno remarked.
There's a much higher conviction rate here though, Maddow argued. It's tougher.
Take a look, via NBC:

Have a tip we should know? tips@mediaite.com