Aw Shucks! Fox News Runs B-Roll Of Oyster Farm During Report On IRS Tea Party Controversy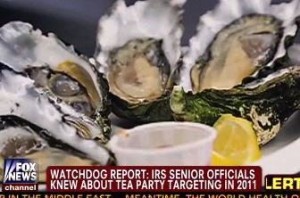 There are some who say that oysters are an aphrodisiac, which might explain why Fox News' America's News HQ tried to sex up a story about the IRS' targeting of conservative groups by running footage of an oyster farm. Fox News' Peter Doocy introduced a report on the early draft of the IRS Inspector General's report, which shows that the IRS knew of the targeting practices as early as June of 2011, but after a clip of Sen. Susan Collins (R-ME) demanding that President Obama denounce the still-under-investigation activities, the video behind Doocy's report switched to clips of the Drake's Bay Oyster Farm.
The footage was from a report on the Drake's Bay Oyster Farm, which is in litigation with the Department of the Interior and the state of California:
That may be why the battle over Drakes Bay Oyster Co. has gotten so hot. Facing a death sentence as its lease runs out, the farm and an activist group on Friday filed two lawsuits against state regulators.

The new lawsuits add to the farm's existing federal action against the Interior Secretary Ken Salazar, who in November denied the oyster operation an extension on its lease. Salazar based his decision on National Park Service policy on commercial operations within parks and on 1970s legislation that designated the oyster operation site as potential wilderness.
What that has to do with the IRS is anyone's guess. Maybe the point is that, instead of looking out for American taxpayers, the IRS were just being shellfish.
Follow Tommy Christopher (@TommyXtopher) on Twitter.
Have a tip we should know? tips@mediaite.com