Awkward! Anderson Cooper Tells Jimmy Kimmel All About His Mother's Erotic Memoir
Awkward! Anderson Cooper Tells Jimmy Kimmel About His Mom's Erotic Memoir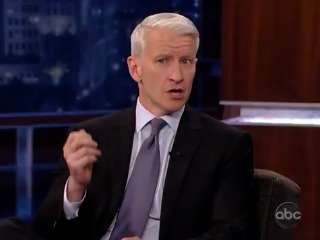 Anderson Cooper, host of roughly 137 television programs, stopped by Jimmy Kimmel's show Thursday, where he spoke about the comings and goings, so to speak, of a couple of naked ladies — namely, comedian Kathy Griffin and his mother, Gloria Vanderbilt.
RELATED: CNN Celebrates Anderson Cooper's Birthday With 'Turtle Man' And A Giant Anderson Cake
Cooper kicked things off by telling Kimmel about the time Griffin insisted on staying over at his home while he was at work… so that she could text him naked photos of herself splayed all over his furniture during his broadcast. The lesson here is: Never let Kathy Griffin stay at your home. And never, ever sit on Cooper's living room couch.
He then shared that, while he and Griffin are good friends, she's actually much closer to his mother, and that the two both love talking about sex. I mean, it's not like his mom is shy, exactly:
My mom wrote, has written a bunch of books, one of which was an erotic novel. The other was a romance memoir, which was about, basically, all the guys she hooked up with. And she asked me to proofread it. I know. Exactly. And she hooked up — my mom got around. She dated Marlon Brando for a night. Literally, she and her friend Carol Matthau, went to movie — like, this was when Marlon Brando was in On the Waterfront Brando — and they decided they both wanted to date him. And they both succeeded in dating him. […] Literally within short succession. My mom wrote this book at age 85 and was describing a guy she was currently dating — I don't know if I can say this — as the "Nijinsky of cunnilingus." Yeah. So, there you go.
Check it out, via ABC:
Have a tip we should know? tips@mediaite.com