Awkward: Bill O'Reilly Grills Students Behind University Of Tennessee's 'Sex Week'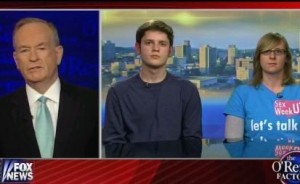 Hearing Bill O'Reilly and sex in the same sentence may set off all kinds of alarm bells in your head, but rest assured, this was about as normal a segment about sex you could imagine taking place on The Factor. Tennessee parents got outraged after learning of a "sex week" at the University of Tennessee, and O'Reilly brought on two student leaders from the group to respond to the controversy. O'Reilly told them that they could have avoided the whole thing by just raising money from students instead of getting university money to do it.
RELATED: O'Reilly Factor's Crack Ambush Reporter's Shocking Discovery: 'Punk' Teenagers Not Political Experts
O'Reilly pointed out that local lawmakers even went so far as to threaten to cut off funding to the university after hearing about sex week, which led to the university backing off and only spending a few thousand dollars from student funds on it. Co-chair Brianna Rader said she understood why the event garnered the outrage it did, but argued that it was an "important educational event" for students.
Jacob Clark, the other student co-chair, had to clarify to O'Reilly that in spite of media reports, there were no seminars or events being organized considering bondage. O'Reilly told them that while he appreciated their focus on safe sex, the "how-to stuff" should have been by personal admission only and not funded by the university. Rader pushed back that it would have been unreasonable to do so.
O'Reilly scolded her for saying that they did what students wanted them to in a survey, saying that taxpayers shouldn't be okay with their money going to what college students want. He said they should have just raised private money from the very beginning in order to avoid controversy.
Watch the video below, courtesy of Fox News:
—–
Follow Josh Feldman on Twitter: @feldmaniac
Have a tip we should know? [email protected]
Josh Feldman - Senior Editor