Awkward: Samuel L. Jackson Confronts Anchor Who Called Him Laurence Fishburne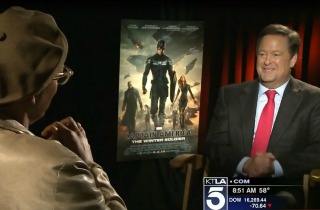 In February, KTLA anchor Sam Rubin made national news when he confused actor Samuel L. Jackson with another African-American actor,Laurence Fishburne. On Thursday, the pair were reunited while Jackson was interviewing with the press ahead of the release of Captain America: The Winter Soldier. The interview was far less confrontational than their original encounter, and Rubin preemptively scolded the national press for not giving this interview as much attention as the last one.

"Our pals at TMZ suggested Jackson had 'destroyed' me," Rubin said, recapping his last fiery encounter with Jackson. "I guess it depends on how you define 'destroy;' I still have my job and I think my reputation is intact."
RELATED: Samuel L. Jackson Scolds Anchor Who Thinks He's Laurence Fishburne: 'We Don't All Look Alike!'
Rubin said he was nervous that Jackson would recognize him, but says that he was certain that Jackson did not until he was reminded of the incident.
"I didn't think it would get any attention at all," Jackson said. "A lot of people thought I was irate and I was being racist, or something."
Rubin pressed Jackson over whether they were okay with each other. "As far as I know, yeah," Jackson replied. "Why wouldn't we be?"
"Will this interview generate the same kind of attention?" Rubin later said. "Absolutely not, because nobody is yelling. There's less heat and more light and, in this day and age, that light seems to matter less and less."
Watch the clip below via KTLA:
[Photo via screen grab]
— —
> >Follow Noah Rothman (@NoahCRothman) on Twitter
Have a tip we should know? tips@mediaite.com