Axelrod: Democrat Senator Merkley Too Busy Doing MSNBC Interviews To Be Briefed On NSA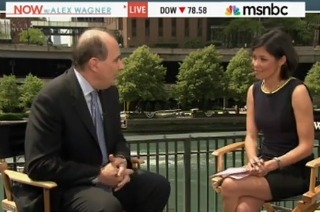 Last week, after President Barack Obama addressed the breaking revelations regarding the National Security Agency's sweeping monitoring of Americans' communications and said that all members of Congress had been briefed on those programs, Sen. Jeff Merkley (D-CO) contradicted that claim. He told MSNBC host Alex Wagner on June 7 that he had never been briefed on these programs and suspected those briefings were limited to congressional intelligence committees. On Friday, former White House advisor David Axelrod said that it turns out Merkley was too busy doing another MSNBC interview to attend the NSA briefing.

"So many members of Congress, and we've had them on this program, saying, 'we weren't fully briefed," said Alex Wagner.
"One of them was a guest on your show and said he wasn't briefed on the PRISM program, and it turned out that he was doing another fine program on MSNBC at the time that the administration was briefing senators on that program," Axelrod said.
RELATED: Dem. Senator Contradicts Obama: 'I Had No Idea' About PRISM, 'Don't Know' How Many In Congress Knew
According to a report in BuzzFeed, a November briefing on NSA was scheduled but Merkely failed to attend.
According to a source close to the situation, the Nov. 27 briefing, arranged by Sens. Ron Wyden and Mark Udall, included then-Assistant Attorney General for National Security Lisa Monaco, Director of National Intelligence James Clapper, DNI General Counsel Bob Litt, and NSA General Counsel Rajesh De.

The source said that while attendees waited for Merkley before beginning the meeting, the liberal Democrat made only a brief appearance before excusing himself and then going on MSNBC's Hardball.
Watch the clip below via MSNBC:
> >Follow Noah Rothman (@NoahCRothman) on Twitter
Have a tip we should know? tips@mediaite.com