Axelrod: Obama Camp Didn't Denounce Priorities USA Ad Because 'I Wanted To Give You Guys A Week Of Programming'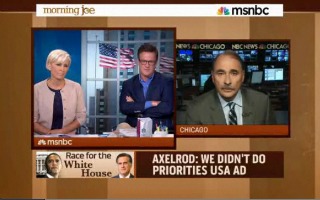 Obama re-election campaign senior strategist David Axelrod appeared on Morning Joe Thursday, where he was asked about the Priorities USA ad inferring, one can argue, that there is a connection between a woman's death from cancer and Mitt Romney.
When asked by host Mika Brzezinski why the Obama campaign never came out and officially denounced the Super PAC-funded attack ad, Axelrod joked that he wanted to give them all a week's worth of programming.
He then said he doesn't believe that the ad holds Romney responsible for the cancer victim's death and, what's more, "we didn't do the ad. It aired once, I guess, in Cincinnati or something by accident." He felt "you guys" had been beating the Priorities USA ad to death while Romney's campaign was airing questionable, Romney-approved attack ads of their own.
"A guy very, very close to you, very, very close to the White House, very close to President Obama," said Joe Scarborough of Bill Burton, the senior strategist for Priorities USA Action and Priorities USA who was also the White House deputy press secretary under Obama. "It's not like Bill Burton is from Kansas and he was in a bowling league and decided to put out a 30-second ad."
"I understand your critique of the ad," said Axelrod. "Anybody who watches your show would have to because you go over and over it every day."
Scarborough pointed to a recent op-ed he wrote about the "shameless demagoguery" of Romney's new ad as evidence that he — and his show — go after both sides equally and fairly.
Have a look, courtesy of MSNBC:
Have a tip we should know? [email protected]