Axelrod: Obama Victory In November Will 'Liberate' Republicans To Work With President
Axelrod: Obama Victory In November Will 'Liberate' GOP To Work With President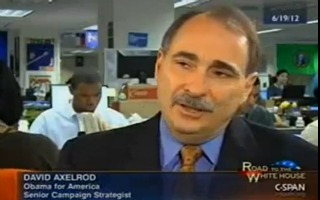 Speaking to C-SPAN on June 19, David Axelrod, senior campaign operative for President Barack Obama's reelection campaign, said that he believes the President will win reelection in November. When he does, Axelrod says that victory will "liberate" Republicans to work with Obama.

RELATED: George Stephanopoulos Challenges David Axelrod Over National Security Leaks
Axelrod was asked what he believes the political environment will be like after November in the wake of an Obama victory – will the Republicans be more open to compromise with the White House?
"I believe that there are Republicans of good will here in Washington who would like to work with us – and they've indicated that," said Axelrod. "But the strategy of the Republican party doesn't permit it. There's been this kind of reign of terror. Any effort at cooperation is considered a betrayal on the part of some in the Republican Party."
My belief is that when the President wins in November, we're going to liberate these Republicans of good will. They're going to blink into the light of a right new day and they're going to turn to the Grover Norquists of the world – frankly, as Jeb Bush has recently – and said, 'you know what? We did things your way, and it was a failure' – failure for the country and for the Republican party. And now we're going to work together.
Watch the clip below via C-SPAN:
h/t Hot Air
> >Follow Noah Rothman (@Noah_C_Rothman) on Twitter
Have a tip we should know? tips@mediaite.com