Axelrod To Wallace: Americans 'In A Better Position Than We Were Four Years Ago'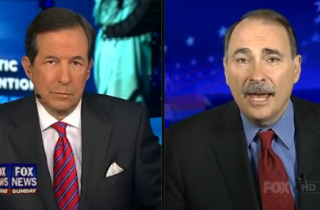 Appearing on Fox News Sunday this morning, President Obama's senior adviser David Axelrod told host Chris Wallace that he believes Americans are better off today than they were four years ago.
"Can you honestly say that Americans better off today than they were four years ago?" Wallace pointedly asked Axelrod.
"I can say that we're in a better position than we were four years ago in our economy, in the sense that when this president took office, we were losing 800,000 jobs a month," Axelrod responded. "And the quarter before he took office was the worst since the Great Depression and we are in a different place."
"29 straight months of job growth, 4.5 million private sector jobs," the adviser cited as statistical evidence, but conceded: "Are we where we need to be? No."
Axelrod then went on to pan Mitt Romney's Republican National Convention performance as a "terrible failure" for failing, in his view, to offer a "plausible" alternative to President Obama's path.
Wallace then challenged Axelrod for trying to refocus on Romney, putting up statistics that showed worse numbers now on unemployment, median household income, national debt, and gas prices since the president took office in 2009.
"Looking at the president's record and the statistics," Wallace pressed again, "is the average American better off than four years ago?"
Axelrod initially dodged the question by saying that "the average American recognizes that it took years to create the crisis that erupted in 2008 and peaked in 2009, and it's going to take some time to work through it."
Unsatisfied, Wallace pressed Axelrod again: "[Obama] is the one seeking reelection. He famously said if 'I don't turn this thing around, I will be a one-term president.' The economy has 300,000 fewer jobs than in February 2009."
"I think those auto-workers whose industry would have collapsed if the president hadn't intervened are certainly better off," Axelrod said. "I think that the millions and millions of young Americans who have health care today that wouldn't have had it if the president hadn't acted are better off. I think the millions of people who have been able to renegotiate their mortgages so that they are paying lower interest rates are better off."
Watch below, via Fox News:
— —
>> Follow Andrew Kirell (@AndrewKirell) on Twitter
Have a tip we should know? tips@mediaite.com