AZ Gov. Jan Brewer Has A Message For Pres. Obama And Sec. Napolitano: 'Do Your Job'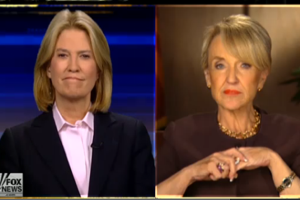 With all the controversy surrounding the illegal immigration bill she signed several weeks ago, it's surprising we haven't seen more of Arizona Governor Jan Brewer. She came out swinging on Thursday in an interview with Greta Van Susteren, accusing the federal government of negligence with the illegal immigration and expressing frustration at the lack of communication between Phoenix and Washington.
Brewer defended her law as a last stand against illegal immigration, which she noted was creating all sorts of problems for the state and making the crime surrounding it seem barely possible. Van Susteren asked Brewer if she had had received any offers of help from the White House, and if she felt she was sufficiently backed by the federal government. Her answer was, quite simply, no:
"They haven't, Greta, and it's really frustrating, you know. We are out here on the battlefield, getting the impact of all this illegal immigration, and all the crime that comes with it, and no one. I have repeatedly sent letters to the administration and to the President of the United States with absolutely no response, and I'm hopeful that when I'm in Washington, DC, in about a week and a half, that I'll be able to at least touch base with the Secretary of Homeland Security and the President of the United States. We need help! They need to do their job and stand up and secure our borders."
She also called the claim that Secretary of Homeland Security Janet Napolitano had not read the Arizona immigration law "unconscionable" and attacked opponents of it as not understanding the problems Arizona currently faces. She repeated the "do your job" mantra again at the end of the interview, where Van Susteren specifically asks her to send a message to Washington.
Full interview below:

Have a tip we should know? tips@mediaite.com