AZ Sheriff Paul Babeu Denies Allegations During Wrenching Wolf Blitzer Interview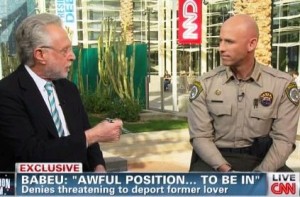 Pinal County Sheriff and GOP congressional candidate Paul Babeu spoke with CNN's Wolf Blitzer Monday afternoon, discussing both the allegations that he dated an illegal immigrant as well as his subsequent decision to step down from his role in Mitt Romney's presidential campaign.
The Phoenix New Times published an interview with Babeu's ex-boyfriend — a Mexican man named only as "José" — wherein he "exposed" the adamantly anti-illegal immigration Sheriff as gay and claimed that Babeu's lawyer had threatened to deport him if he went public with their relationship after the two had broken up.
RELATED: GOP Candidate And AZ Sheriff Admits He's Gay After Accusations Surface That He Dated An Illegal Immigrant
Babeu took time to clear up some of the allegations against him, confirming that he is indeed gay and had dated "José" privately over a period of three years. José had also volunteered to help Babeu in his campaign efforts, working on its website and handling social media outreach as part of an unpaid position. After their relationship soured, Babeu said, José took control of the site's password information and the campaign's Twitter account, posting private photos and personal information about Babeu. In addition, he clarified, José is not undocumented, and no threats to deport him were made either through Babeu or his lawyer.
He also explained that he stepped down from Romney's campaign because of all the attention currently being given to his personal life, adding that the campaign did not and does not have an issue with his sexual orientation.
Watch, via CNN:
Have a tip we should know? tips@mediaite.com