Bachmann Campaign Head Ed Rollins: Stepped Down For Health Reasons, But 'It's A Perry/Romney Race'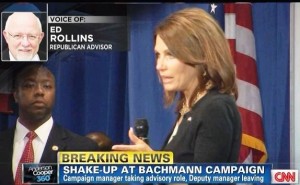 Rep. Michele Bachmann's campaign manager and longtime Republican strategist Ed Rollins announced today that he would be stepping out of the presidency and into an advisory role for his candidate, and explained on CNN tonight that his decision was based primarily on health reasons. But he also had some fascinating insights for Anderson Cooper and John King: it's currently a Rick Perry/Mitt Romney campaign, but in order to remain relevant, Perry has to win either Iowa, New Hampshire, or South Carolina: all uphill battles for the Texas governor.
Rollins was emphatically sincere about his reasons for taking on a smaller role in the campaign, telling Cooper that "I'm 64 years old, I had a stroke a year and a half ago… I just don't have the endurance to go for fourteen-hour days." He added that he still had "great affection" for the campaign and the candidate, and that he wasn't "going away," just assuming a different role.
Cooper then inquired on how Perry had redefined the race since entering it, which Rollins answered was a good question as "Rick Perry is a very serious candidate" and means that "we now have two very serious money people" in the race (Jon Huntsman, despite having a strong economic backing, seemed not to concern him). Perry had several challenges to face, however: "the vast majority of people don't know who Rick Perry is outside of Texas," he noted, which meant that polls, to him, would not show the extent of his popularity until his name recognition improved. That said, he admitted that "we're going after the same voter base" and that his entry "took a lot of the momentum that we would've gotten out of the straw poll victory" away.
That the race was "Romney-Perry" also seemed not to disturb Rollins too much: "it was different and better than we thought," as Rep. Bachmann was "very much in this thing." That said, King then turned to ask him about the optics of this change, and whether "for a candidate who has a new competitor" and a history of gaffes, it will be interpreted as "another misstep." "People will say that," Rollins responded, "but it doesn't matter." "The key here is, 'Where did you win?'" Rollins concluded, noting that Perry "has to win somewhere" to remain relevant, and the first three races are far more winnable for Rep. Bachmann or Romney.
The segment via CNN below:

Have a tip we should know? tips@mediaite.com