Bachmann Declares ObamaCare A Job Killer: 'No Greater Outsourcer Of Jobs Than Pres. Obama'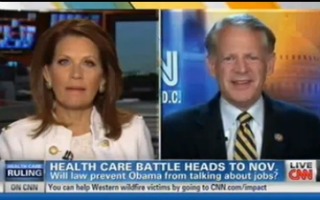 On Friday's Starting Point, Democratic Rep. Steve Israel sparred with Republican Rep. and former presidential hopeful Michele Bachmann over the Supreme Court's health care ruling and its impact on the economy, with both claiming the other was fudging facts and figures.
"Michele," said Israel, "where have you and the Republican majority been since you took control of the House of Representatives in January 2011? This is the problem — that, instead of finding ways to work with us to move the economy forward, you guys have obstructed, though excessive partisanship, through every partisan argument you can find."
As the discussion turned to jobs (and after what appeared to be some sort of satellite glitch), Bachmann announced that "there is no greater outsourcer of jobs than President Obama," before adding that job creators and businesses both small and large cite ObamaCare is the "number one reason" they aren't hiring.
"That's just not true," Israel replied.
"Well, business — the 26-year-old mandate is not impacting whether someone hires you for a job," said Bachmann. "Usually there's employer-sponsored health care benefits associated with that job. That's what's changing now overnight. Trust me. I'm an employer. I started a successful company. Business owners all across the United States are gathering today. They recognize this is a very expensive way to do business with ObamaCare. And you're going to see massive numbers of people dropped from their employer-sponsored care. America changes because of this bill."
"Congresswoman, stop for one second," host Soledad O'Brien interrupted. "Governor"?
"There's plenty of evidence that suggests over the last two years since the bill became law that premiums have not been growing at the same rate they were growing at before," Israel countered.
Watch, via CNN:
Have a tip we should know? tips@mediaite.com