Bachmann Hits Gingrich For Being 'Condescending' To Her During Debate On Meet The Press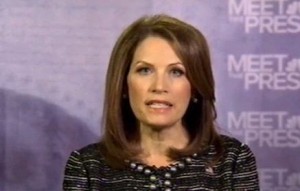 Michele Bachmann appeared on Meet the Press earlier today, and in the middle of talking about her chances in Iowa next month, David Gregory brought up the uncomfortable exchange she had with Newt Gingrich during last week's Republican debate. Gingrich accused Bachmann of "not getting her facts correct," and Bachmann responded by calling his comments "outrageous," insisting she is a serious candidate for the presidency.
Gregory asked if Bachmann thought Gingrich was "singling her out" for some reason. Bachmann stated it was "obvious" that he was, citing similar comments of his at a previous debate. She claimed that Politifact had backed her previous statements up, and Gingrich never specifically pointed to an inaccurate statement she made, but merely accused her generally of not having all the facts.
RELATED: Meghan McCain's Feud With Gingrich Rolls On: Treatment Of Bachmann Could 'Obviously' Be Sexist
Bachmann did not answer the question of whether Gingrich was being sexist towards her, but she did acknowledge it felt "condescending" to have him talk down to her as if she was one of his students. Gregory pointed out that despite Bachmann's assertion that Politifact ranked all of her statements at the previous debate as true, they had only ranked two of her remarks, and one of them, a charge that Romney introduced "socialized medicine" to Massachusetts, was false. In fact, Politifact issued another "Pants on Fire" to Bachmann for claiming they had ranked all her statements as true.
Watch the video below, courtesy of NBC:
Have a tip we should know? tips@mediaite.com
Josh Feldman - Senior Editor