Bachmann Responds to Obama's Joke at Her Expense: Nothing Funny About 'Death Panels'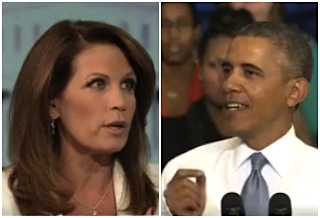 President Obama may have singled out Fox News by name for extra criticism during his campaign-style speech to rally support for the Affordable Care Act in Maryland yesterday, but he also worked in a slightly more subtle dig at another conservative institution: Rep. Michele Bachmann (R-MN). Today, Bachmann got a chance to respond to the president's crack during an appearance with Wolf Blitzer on CNN.
Obama was rattling off some of the more ridiculous arguments against Obamacare he's heard in recent weeks and months when he came to one he said he "liked." Without saying who made the comments, he quoted, "'We have to repeal this failure before it literally kills women, kills children, kills senior citizens.'" He added, "Now, I have to say that one was from six months ago. I just want to point out, we still have women, we still have children, we still have senior citizens."
The line got huge applause and some audible laughter from the audience of supporters, and it turns out the member of Congress was was quoting was Bachmann, who made the statement on the floor of the House back in March.
Asked by Blitzer if she really believes Obamacare will kill women, children and senior citizens, Bachmann responded, "That's the greatest fear that Americans have, and the president got a big applause line when he made that statement, but it will be very unpleasant if the death panels go into effect."
"If we have denial of care for women, children, senior citizens or if we have problems where people aren't given the drugs that they need," she continued, "maybe they'll be denied drugs for breast cancer, you bet this can happen. That is what I'm worried about, not just me, people all across the United States. This is literally an issue of life and death."
You may notice that Bachmann does not explain how or why the alleged "death panels," which Sarah Palin was so fond of promoting, will go into effect, but only warns against the dangers "if" they do. And yet she wonders why it's Americans' "greatest fear."
Watch video below, via CNN:
[photo via screengrab]
— —
>> Follow Matt Wilstein (@TheMattWilstein) on Twitter
Have a tip we should know? tips@mediaite.com