Bachmann Tells CNN's Blitzer America Had 'Fabulous Health Care' Before Obamacare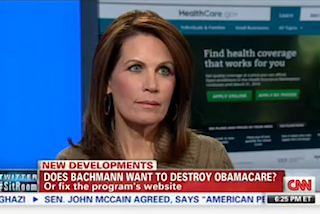 Rep. Michele Bachmann (R-MN) went head-to-head with CNN's Wolf Blitzer Wednesday afternoon over Republicans' continued efforts to discredit President Obama's Affordable Care Act. Blitzer strained to figure out what the GOP's next steps will be on the issue, especially if the website issues are resolved and enrollment picks up speed. "Do you want to try to make it better, to fix it, or do you just want to destroy it?" he asked.
"What I want is the finest possible health care for America that we can have," Bachmann insisted. "We did have fabulous health care, and I think we can again."
At this point, Blitzer interrupted the congresswoman, reminding her that "a lot of people didn't have fabulous health care. There were millions of people who had no health care."
She responded that what President Obama is currently promoting is "fantasy health care" before listing off the various "promises" the president made that she believes he's failed to keep. Bachmann then touted her "fiscal conservative" credentials by saying that rather than force insurance companies to cover patients with preexisting conditions, she would urge the Treasury Department to write a yearly $5 billion check to pay for those individuals.
Earlier in the interview, Bachmann contended that Obama "didn't work with one Republican" when constructing the Affordable Care Act, a claim Blitzer disputed by emphasizing that "he tried, but the Republicans didn't want to work with him, they didn't like his ideas."
Bachmann admitted that sooner or later, the HealthCare.gov website "will work," adding, "f it doesn't, it will be the laughingstock of America." But, she said, "the bigger problem is a health care system that won't work."
When Blitzer showed her poll numbers that demonstrate that people "are beginning to like" the health care law a bit more, Bachmann rejected the data. "Not in my district, they aren't," she said. "People are upset about it."
Watch video below, via CNN:
[photo via screengrab]
— —
>> Follow Matt Wilstein (@TheMattWilstein) on Twitter
Have a tip we should know? tips@mediaite.com