Bachmann Undecided On Trump Debate; Concerned With Potential 'Bias' And Independent Run
Bachmann Undecided On Trump Debate; Concerned With Potential 'Bias'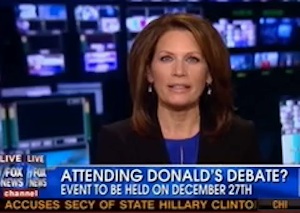 Michele Bachmann spoke with Fox and Friends this morning and expressed reservations over making a decision to participate in the Donald Trump moderated Newsmax debate scheduled for December 27. At present, only Newt Gingrich and Rick Santorum have said they will attend, with Jon Huntsman, Ron Paul and Mitt Romney refusing.
RELATED: Donald Trump Tells Piers Morgan That Michele Bachmann Is 'Highly Underrated'
"We haven't made up our mind on this," Bachmann revealed. "I like Donald Trump a lot. We have a very good relationship but there's a couple of issues behind the scenes. One of them is — as you mentioned this morning, whether or not Donald Trump himself will be a candidate and he was also on television saying that he was leaning toward one candidate. Even if he was leaning towards me, it just — it suggests the idea of bias and I just don't know if that that's necessarily the right format."
Carlson noted that Bachmann had met with The Donald more times than any other candidate.
"He has a great sense of humor," Bachmann acknowledged. "He's added so much to the party. His voice has brought up the issue of China more than anyone else and the fact with OPEC strangling us with gasoline prices and he is just a wonderful voice for the party. I love him so much for what he's doing to bring out this important voice but again, this is a presidential race. They need to be taken seriously, these debates, and when you have a question of potential bias, I just think it's important that we look at it carefully."
Bachmann's interview with Fox and Friends was hampered early on by audio problems –perhaps one of the worst things to happen to a presidential candidate on live TV–with the Congresswoman staring blankly for nearly 10 seconds before producers fixed the problem.
Watch Bachmann's apprehension over joining Trump's debate below via Fox News:

Have a tip we should know? tips@mediaite.com