Bachmann, Wasserman Schultz Clash Over Whether Dems Are 'Sabotaging' Benghazi Investigation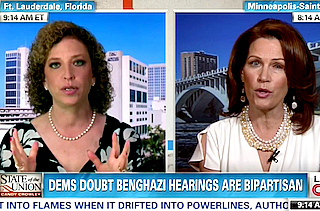 On CNN's State of the Union Sunday morning, outgoing Representative Michelle Bachmann (R-MN) and DNC Chair Debbie Wasserman Schultz (D-FL) engaged in an interruptathon over the new Benghazi Select Committee, and who was politicizing what in the continued focus on the September 11, 2012 attacks on the American consulate in Libya.

"The bottom line here is that the Republicans have clearly lost the ability," Wasserman Schultz began, "because we've had such a precipitous drop, among Republicans even, in their fervor for repealing the Affordable Care Act, that they are clearly doing this to drive their turnout—"
Then came the first of many interruptions. "That is not true at all," Bachmann said.
RELATED: Sunday Show Round Up: 'Who Politicized Benghazi?' A Play in Infinite Acts
"The Republicans are in the majority of the House of Representatives," Wasserman Schultz continued. "So they can essentially do whatever they want. In creating this select committee, they have to, in order to make sure that the process is credible — which, the way they've set it up, it's clearly not going to be and has an outcome that's been predetermined — they have to treat the minority fairly."
"That's absolutely not true," Bachmann interrupted. "I think it's important that this is a dialogue and not a monologue…It's really clear that the Democrats have tried to sabotage this process from the very beginning. We shouldn't do that when we have questions about four people who've died. We've got to get to the bottom of this, and not politicize it. And unfortunately that's what's been happening with the Democrats."
"We don't have the ability to sabotage it!" Wasserman Schultz objected. It was in this manner that the segment continued.
Watch the clip below, via CNN:
[Image via screengrab]
——
>> Follow Evan McMurry (@evanmcmurry) on Twitter
Have a tip we should know? tips@mediaite.com