Bachmann's Former NH Staff Say Her National Team Was 'Rude, Unprofessional, Dishonest, And At Times Cruel'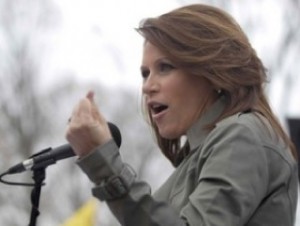 Last August, Jet Blue flight attendant Steven Slater became a hero — at least temporarily — for frustrated workers everywhere, by quitting his job in grand fashion, allegedly grabbing two beers and descending to the ground on an emergency exit slide from the plane. On Monday, Michele Bachmann's New Hampshire campaign workers left her employ in the same spirit, announcing their resignations from the campaign while blasting her national handlers. And it was all done through an official press release, sent on the "Team NH — Bachmann For President" letterhead.
The letter, which can be read here, is a fun look behind the scenes of a campaign that is currently mired in seventh place in the Granite State and doesn't seem to care much for making an impact there — they've said publicly that they want to focus on Iowa. But the gems, regardless, come from the staffers saying that they're fed up with Bachmann's national handlers, who allegedly blew off, angered, and belittled the New Hampshire workers on a few occasions:
The manner in which some in the national team conducted themselves towards Team-­NH was rude, unprofessional, dishonest, and at times cruel.

…

It saddens this team to see a dedicated patriot -­ a person so desperately needed in the White House -­ sequestered behind a wall of pretense, guarded by political operatives consumed by their own egos.
RELATED: Rep. Michele Bachmann Denies Reports Her Entire New Hampshire Staff Has Quit

Bachmann's campaign manager, Keith Nahigian, responded in a statement to Politico shortly after the release, saying that the New Hampshire statement was unauthorized and was sent by a person — Karen Testerman, an unpaid adviser who worked in concert with the five staffers — who doesn't even work for the campaign and doesn't have authority to speak on its behalf. "Our focus is on Iowa," the statement concluded.
Alice Stewart, a senior campaign spokeswoman for Bachmann, joined John King on Monday to discuss the charges made in the letter, saying that the staffers never contacted the senior staff (although Jeff Chidester, Bachmann's ex-NH campaign manager, says he informed the national team last Thursday). Stewart then proceeded to drive home the fact that the campaign cares much, much more about Iowa — where Bachmann is a distant fifth, according to RCP aggregates — by saying "New Hampshire" seven times, while mentioning "Iowa" 11 times in the interview. Focus on Iowa indeed!
Enjoy the video of Stewart responding to the New Hampshire letter, while singing the praises of Iowa, below, courtesy of CNN:
Have a tip we should know? tips@mediaite.com