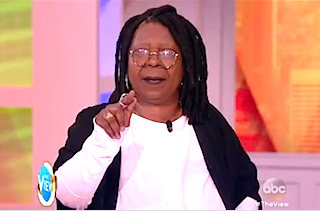 Even after court documents were released in which Bill Cosby admitted under oath to procuring drugs to use on women with whom he intended to have sex, The View's Whoopi Goldberg has still refused to suggest that the comedian is guilty of sexually assaulting the more than 40 women who have accused him. And on Wednesday, she verbally attacked anyone who dares to criticize her for that position.
Saying that she has received threats against her family since defending Cosby again on Tuesday, Goldberg said, "Not any of you threatening me or telling me you're coming after me because you don't like what I said is going to change the fact that no one has convicted him. He has not been arrested, and the bottom line is that's the law: innocent until proven guilty."
The host proceeded to appeal to the mothers of men who have been falsely accused of rape. "Just ask the parents of the boys on the Duke lacrosse team," she said. "Remember that? We raked them across the coals, burned them at the stake, took away every opportunity they had out of school. They were done. And it turns out, it wasn't true."
And just in case anyone was getting the wrong idea, Goldberg added, "No one here thinks rape is good."
"So don't come after me like that because I'm sick of this bull," she continued. "Here's the bottom line for me: It's my opinion, and the American courts agree with me because still he has not been taken to jail or tried on anything. So back off me!"
Then, because they apparently have lost all sense of free will, The View's audience applauded wildly.
Watch video below, via ABC:
[Photo via screengrab]
— —
>> Follow Matt Wilstein (@TheMattWilstein) on Twitter
Have a tip we should know? tips@mediaite.com