Back To School Sugar Babies: Did Donny Deutsch Support Prostitution On The Today Show?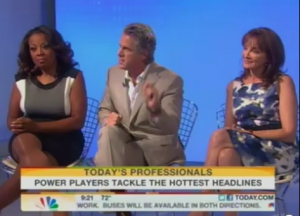 Lately, I've really been feeling like we've been lacking in light, controversial fare to discuss on programs like the Today show and The View. Like, I know there's all this drama going on in Somalia and something has been happening with debt and ceilings but it's all just so… depressing. I can't even think about it. You know what has really getting to me? This Huffington Post article I read about Sugar Babies.
Did you know that women who went to college are now going online to meet rich men who will buy them presents and give them money in exchange for sexual favors? Like, ick! What kind of world are we living in? I totally agree with Star Jones; "ethically, morally and in my neighborhood… When you return sexual favors and expect some kind of renumeration, my mother would call you a hoe".
That's like, exactly how I felt when I read about this story two years ago in Cosmopolitan. Except I wasn't as outraged last time because the story was right next to this really scary article on honeymoon murders (really serious issue too, guys!) and that one totally got me thinking.
But in all seriousness, this morning the Today show decided to address an issue that has recently exploded. This controversy has mostly been manufactured by an incredibly long winded HuffPo article that dared to take offense at what is essentially prostitution with a fancy website.
The article contains interviews with several "Sugar Babies", who sleep with wealthy men under the assumption that said men will help them pay off their student loans. These women are billed as intelligent, wealthy and on their way to success:
I'm honestly surprised there aren't more college students doing this," says Jennifer, not blinking. She's a 23-year-old recent graduate of Sarah Lawrence College.

Fed up with young, unemployed men her own age, Jennifer recently began trawling for a sugar daddy to pay down about $20,000 in student loan debt. She also wouldn't mind a clothing allowance or rent money for her studio apartment in New York's East Village.

A week ago, she boarded a plane to Florida to spend the weekend with a 30-something banker she met on SugarDaddie.com. He told her his house was undergoing a renovation and instead drove her to a nearby hotel, where they spent the night together.

"Yeah, sure, he could have been a psycho, a killer," says Jennifer over breakfast. At nine o'clock in the morning, she's in a full face of makeup. On her profile she describes herself as a yoga teacher and personal trainer. "Barring rape or death, what's the worst thing that could happen to me?'
Indeed. Well, women like Jennifer found a defender this morning on the Today show. Donny Deutsch says, "shame on us for passing judgement". Yeah, shame on us! Also, "everything in life is some kind of transaction". But "[his] children are growing up in privilege so that's not going to be an option for them, of course."
Naturally this didn't exactly fly with Jones and the other women. After Deutsch suggested that this might actually be a positive thing he was basically attacked by the other female panelists. One responded to his point, "who are we to sit in judgement if this girl ends up going to medical school and that's the way she's going to do it" by saying "[I] don't want her to go to medical school after she's spent half her life on her knees, I'm sorry". 
The discussion continued to get more heated when Deutsch compared these Sugar Babies to women who stay with their husbands for security instead of love.
However, with the exception of the last argument in the segment, Deutsch doesn't make bad points. He was obviously brought on the show to play the role of devil's advocate in this back-to-school controversy, but he is articulate and in some ways his points about the importance of education are true. But he appears on a show with a distinctly feminine presence and argues an unpopular point. The result is this half uncomfortable, half incredibly entertaining argument.
Watch the fight below:
(h/t)
Have a tip we should know? [email protected]