Bad PR Is Better Than No PR: As Touré Shows, Shock Reigns Supreme In Cable News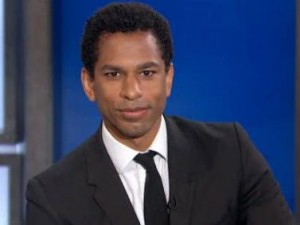 Touré's extensive experience in media is nothing short of impressive, if for no other reason but its diversity.
He's a national political commentator and host one minute, a member of the Rock and Roll Hall of Fame Committee the next (and if he's responsible for Rush getting in, kudos…but if he was involved in ABBA's induction, we're taking this outside). The Brooklynite has won writing awards for Rolling Stone, but has also been published in Tennis Magazine. His television career has stretched from MTV to CNN to BET.
For the purposes of this column, let's focus on Touré's commentary for The Cycle, another example of opinion roundtables filling time on cable news over hard journalism.
Despite wearing many hats, at least in terms of his TV work, the 41-year-old excels most in creating controversy. His negative press has far outweighed the positive stuff, but given the format of the show, negative reaction from the outside may be the new normal.
Without looking it up, the two examples that immediately come to mind involve race (or race-baiting, depending on your perspective). The most recent involves Touré's comments around the Newtown shootings, which has been handled so miserably and cheesy by both sides of political media that its insulting to the poor children murdered that day and the families left to witness the "debate" happening since 24/7.
Having said that, here's Touré's take on the subject on February 15th:
"Now, if Adam Lanza had walked into a black public school in this mythical South Brooklyn, or in the South Side of Chicago, we would probably not be having a sustained, national conversation about guns."
So according to this evaluation, if a white shooter had gone into a mythical black public school in South Brooklyn (which is indeed mythical to Touré, considering he attended a prestigious private school growing up, where he was a member of the tennis team), and killed 27 children and adults, it's wouldn't be a sustainable news story? It wouldn't spur the same kind of continuous conversation the Sandy Hook shootings have?
You know, he's right. Coverage would actually be more intense, only because the media would turn it into such a racially-charged story that it would double the amount of attention (think Trayvon Martin times 30) compared to what it's receiving now. And likely leading that charge would be Touré, who once claimed Mitt Romney was using overt racial connotations to rally his base, calling it the "niggerization" of the campaign.
The host would go on to apologize for the remark. But not for feeling remorseful or irresponsible, but likely because he was told to do so.
So all of this begs the question: Do the bosses of cable news—deep down in places you don't talk about at parties—do a quick fist pump of approval every time someone like Touré gets grilled by the press for making a ridiculous remark?
The old answer would immediately be no, where the following mantras would apply:
Integrity of the news organization comes first.
We don't want our people to become the story.
We don't want to insult half our audience.
However, the 2013 answer is much different, all thanks to an unprecedentedly-polarized landscape.
For starters, you can't insult half your audience if most have already left. If you're MSNBC, most conservatives are watching the Roger Ailes brand. If you're Fox, many liberals have found comfort in the Lean Forward network. But if you can get some from each side of the spectrum to flip back and forth and watch both channels, that can make the difference between a show's success and failure.
As for not allowing "our people to become the story," that's now the objective. Don't think for a second that executives at MSNBC aren't loving it when the Touré "niggerization" story generates over 4000 comments in a few hours on this site alone. Free press puts The Cycle at the center of the conversation.
That's why Touré can broach the N-word on national TV and not get suspended.
Finally, the integrity issue: Simply put, it's a dying concept with opinion journalism taking over. Scripts used to be edited, fact-checked and scrubbed before going to air in the era of hard news. Now, it's more extemporaneous free-styling. Whatever thought pops into one's head during a panel discussion, there is no editor, no filter.
Just let it fly and see what sticks…
There's a scene in the Howard Stern autobiographical movie Private Parts where the great Paul Giamatti (playing the role of Howard's boss, Pig Vomit) is reviewing Stern's ratings rise with a radio researcher.
It perfectly sums up the bad-PR-is-better-than-no-PR mentality in cable news today:
Researcher: The average radio listener listens for eighteen minutes. The average Howard Stern fan listens for – are you ready for this? – an hour and twenty minutes.

Pig Vomit: How can that be?

Researcher: Answer most commonly given? "I want to see what he'll say next."

Pig Vomit: Okay, fine. But what about the people who hate Stern?

Researcher: Good point. The average Stern hater listens for two and a half hours a day.

Pig Vomit: But… if they hate him, why do they listen?

Researcher: Most common answer? "I want to see what he'll say next."
Touré is no Howard, no one is.
But the philosophy is the same as it was when you were eight years old:
It's always a good thing to get your name in the paper.
Regardless of how it got there in the first place…
— —
>> Follow Joe Concha on Twitter @ConchSports
Have a tip we should know? tips@mediaite.com