'Baffling': Marc Lamont Hill Finds Juror Who Spoke To CNN 'Overly Sympathetic' Toward Zimmerman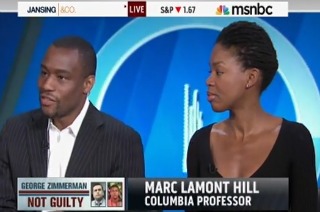 Columbia University associate professor Marc Lamont Hill told MSNBC's Chris Jansing on Tuesday that he found the tone an anonymous juror in the trial of George Zimmerman took in her interview with CNN's Anderson Cooper "baffling." He said that she was, in his opinion, "overly-sympathetic" toward Zimmerman. Hill added that he was disappointed that the jury abided by the judge's instructions and refused to consider race as a factor contributing to the shooting death of Trayvon Martin.

"She was convinced it was George Zimmerman's voice that we heard on that 911 call," Jansing said of the anonymous juror. "That he felt he had to protect himself."
"He initiated the interaction that led to the death after young boy," Hill replied. "It seemed to me that they were overly – or, at least, she was overly sympathetic to Zimmerman that was almost baffling."
RELATED: CNN's Anderson Cooper Interviews Anonymous Member Of Zimmerman Jury Who Defends Acquittal Decision
"She also told Anderson Cooper that she didn't think this was about race," Jansing observed. The Grio contributor Alexis Stodghill said that the juror was actually abiding by the judge's instructions when she and the rest of the jury refused to consider race when deciding Zimmerman's guilt.
Jansing noted that Zimmerman witness Rachel Jeantel told CNN's Piers Morgan that Zimmerman was invoking race when he referred to Martin as a "punk" accompanied by an expletive.
"The fact that they weren't talking about race in that jury room is also scary to me, because they should have," Hill added. "For me, the problem is that the prosecution didn't weave a narrative from the beginning that would force them to think about this in racial terms."
Watch the clip below via MSNBC:
> >Follow Noah Rothman (@NoahCRothman) on Twitter
Have a tip we should know? [email protected]