College Republicans' 'Diversity Bake Sale' Sparks Controversy, Cries Of 'Racism'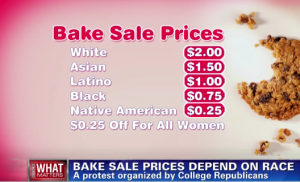 UC Berkeley College Republicans sparked a furor over its planned "Increase Diversity Bake Sale," scheduled for Tuesday. The event was created to criticize a bill that would allow California public universities to consider race, ethnicity and gender in student admissions.
The group priced each baked good as $2.00 for whites, $1.50 for Asians, $1.00 for Latinos, $0.75 for blacks and $0.25 for Native Americans. All women would get $0.25 off those prices.
The trouble began when the College Republicans set up a Facebook page to promote the event, which drew hundreds of complaints: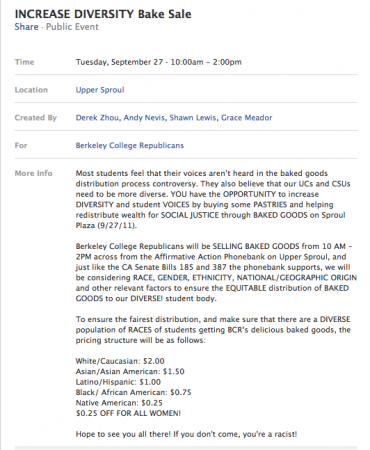 The planned bake sale enraged many Berkeley students who widely decried the event as "racist" and prompted the student government to unanimously pass a bill calling for "respectful ASUC student organization conduct," and condemning the "use of discrimination whether it is in satire or in seriousness by any student group."
CNN anchor Don Lemon spoke to the event planner College Republican President Shawn Lewis and questioned him whether he was expecting such a backlash.
"We did expect opposition…we didn't expect the volume, the amount of response that we got," Lewis said. "And the tone of some of the responses — we expected people to be upset. We didn't expect personal threats to be made. They were implicit and explicit threats made to the organizers of the event, from burning down the table to throwing our baked goods at us and other kinds of physical threats."
Lemon asked Tim Wise, anti-racism activist and author of "White Like Me: Reflections on Race from a Privileged Son," if the group had a point.
"It seems like theres a lot of ways to make a point about your disagreement with affirmative action without doing a sarcastic, rather smarmy slap at people of color," Wise said. "It's been done for 15 years, it's not an original joke."
In spite of the international controversy caused by the bake sale, Lewis said the group still planned to hold the event.
Watch the segment below, courtesy of CNN:

(h/t CNN)
Have a tip we should know? [email protected]