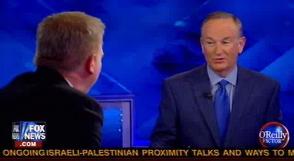 For the first time ever, Fox News is on pace to have the top 13 shows on cable news in 2010 – in both total viewers and the A25-54 demographic.
Here's a breakdown of the programs, where the competition falls and more on the second quarter and June numbers.
The usuals were in their usual placement: Bill O'Reilly at #1, followed by Glenn Beck and Sean Hannity in both categories. #4 and #5 were Bret Baier and Greta Van Susteren, alternating places for demo and total.
The rest: Shepard Smith, Neil Cavuto, the O'Reilly repeat, America's Newsroom, Studio B, America Live, Happening Now and Fox & Friends.
Keith Olbermann had the top-rated non-FNC show in both categories. Nancy Grace was #1 for HLN, finishing 16th in both categories. For CNN, Larry King had the top show at #17 in total viewers, but interestingly, the top CNN show in the demo for the half-year was CNN Tonight – the placeholder until John King stepped in at 7pmET.
We always like to check in on Red Eye, FNC's 3amET show. It didn't top Campbell Brown this time in the demo, but it did beat the show before Brown's: John King USA.
Here are the 2Q cable ranker and the 2Q program ranker. (During just the 2nd quarter, FNC had the top 10 shows in total viewers and top nine shows in the demo. It also finished 3rd on all of cable in total viewers during prime time – MSNBC was 25th, CNN 31st.)
If you just want to see June only, check out the cable ranker here and program ranker here.
—–
» Follow Steve Krakauer on Twitter
Have a tip we should know? tips@mediaite.com