Ballsy: Daily Show Airs Shot Of Jason Jones' Testicles During Vasectomy Field Piece [NSFW]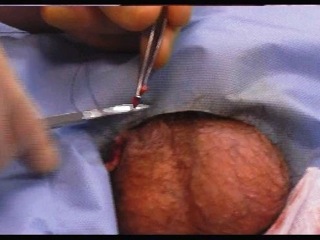 Here's something to make you long for the days when Janet Jackson's jeweled nipple cause national uproars. In what would have otherwise been a comparatively humdrum field piece on the Daily Show ripping from the classic reporter health exposé of the Katie Couric colonoscopy variety, reporter Jason Jones let the Daily Show in on his vasectomy procedure, and aired it all to prove "children"– the disease– can be stopped.
The bit, packaged as a Bear Grylls-esque survival in the jungle segment, only really included one joke– "children" were a sexually transmitted disease, and, as Jones and wife Samantha Bee told their audience, "you are stuck with children for the rest of your life." That went on for a bit until the doctor informed Jones that children could be stopped with a vasectomy, which, given the alternative of using condoms, Jones jumped at the chance to get. Then there was a romantic montage of Jones remember all the "good times" he had with his testicles, which led directly to a frontal shot of them. The crowd, of course, cheered wildly. "My children will never be cured, but at least it cant get worse," he concluded, an overall approval of the experience.
There's not much to parse here– the main comedic motive behind the bit is that people will laugh at genitals regardless of context, though there are some flashes of something more complex going on in the writing, especially given that Jones is a supposed to be a fake reporter on a fake news show, and not just a random guy getting a vasectomy on television. But that's mostly lost in the shock value that will make the clip a viral hit as well as do its part to undermine the entirely Jon Stewart and company seem to take so seriously– except, of course, when that requires responsibility to do. If this is the material left to expect of Daily Show field pieces, it's hard to see how they will continue to fit on a political program– unless, of course, Congress is generous enough to provide a new, scrotum-friendly sex scandal.
The segment via Comedy Central below:

Have a tip we should know? tips@mediaite.com